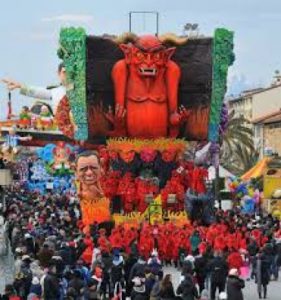 Akin to the Venice Carnival we talked about a few days ago, Viareggio will not be outdone with their 40-ton papier-maché floats!  The Carnival of Viareggio fills a whole month of day and night merriments with parades of metaphorical floats, parties, and masked balls.  This carnival began in 1873 in old town Viareggio.  Not only is this a big event, but it's also a big Italian media event!
The Carnival of Viareggio has been part of Italian history for over a century, and it is truly a testament to the art and creative abilities for all Italians.  The event is organized by Fondazione Carnevale and has been since 1987.
Parades will take place on:   Saturday 9,  Sunday 17, Saturday 23 February, Sunday 3 and Tuesday 5 March 2019 
Ticket information and the full program are available here.
The town of Viareggio, surrounded by the Apuan Alps and Massaciuccoli Lake, is just one of Italy's sensational seaside resorts.  The Promenade area is where the parades take place, and is also where you find the most charming shops and cafes to enjoy during your visit.
Colorful masks are also a highlight of this carnival, as they are in Venice.  Don't expect to find us wearing the same mask you saw in Venice; we've already designed and built a new one for Viareggio!
Pisa is less than a 30-minute jaunt away and is an incredible place to not only get a gander at the iconic leaning tower but also to see the Pisa Cathedral Square.  This tour includes:
Cathedral
Baptistery
Monumental Cemetery
Sinopie Museum
Museo dell'Opera / Cathedral Museum
Also, during the days separating the parades, a trip to Pisa and Lucca is in order.  Have a seat and sip some of the most incredible wines Italy has to offer.  This tour includes:
A visit to the winery Terre del Sillabo and wine tasting
Another guided visit to Lucca along the old walls
Lunch at Osteria Baralla in Lucca
And wrapping up with a guided visit to Piazza dei Miracoli in Pisa: Cathedral and Cemetery
Florence is just a 90-minute hop away from Viareggio, so if you're in search of more fun, let's talk about some of the things we do in Florence!  Another tour that includes both San Gimignano, and Siena plus the Chianti countryside, will have you thinking about a move to this tempting Tuscan hill city as you dine under the sweet, alluring sunset.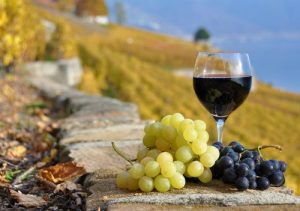 Still another option is our Tuscan Wine Trail tour that also takes you into the charming Chianti region.  World-class wines and a Tuscan lunch, are a perfect way to spend a sunny February day.
Be sure to wave to us on our float back in Viareggio's carnival!  Don't forget your mask!