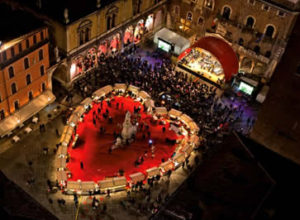 Italians are known worldwide for their deep passions, animated expressions of emotion, and epic loves. Few places in Italy epitomize all of these better than Verona, setting for the original Romeo and Juliet. If you happen to be in Italy on Valentine's Day, be sure to check out Verona in Love 2017, a three-day festival of romantic love in a setting made famous by William Shakespeare.
During the festival, restaurants in Verona offer romantic settings and heart shaped pastries, discounted admission is available to the Lamberti Tower and Galleria d'Arte Moderna, and "lights of love" adorn the street lamps. You can make a special pledge to your soul mate or take a romantic walk beneath the stars. The spirit of pure love will be everywhere you go in Verona during this special celebration.
Romeo, Juliet, and the Lovely Garda Lake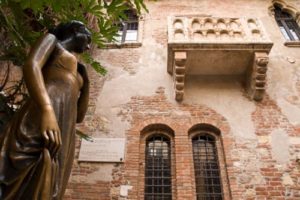 During the Festival of Love you can visit Juliet's house, her tomb, and the balcony from whence she called to her lover. In America, the story may be viewed as fiction, but in Verona it is regarded as history, or at the very least legend. There is some evidence that suggests Shakespeare may have been telling the story of two actual youths who lived in Verona in 1303, fell in love, and came to a tragic end.
The story, of course, was not new even in Shakespeare's time. Young love has always been a favorite topic for the writer's pen. Choose to believe the tale is fact or fiction. There's no denying the love in the air when you visit Verona. Take one of the many romantic tours or visit the lovely Garda Lake, bordered by Mediterranean vegetation, with private coves and pleasant boat rides for couples.
Lake Maggiore, Lake Como, and Bellagio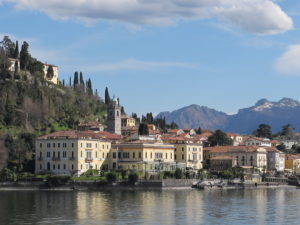 While we're on the topic of lakes, there are several within easy travel distance from Verona. Lake Maggiore is the second largest lake in Italy and actually borders Switzerland. The climate is mild and the people are laid back. The gardens of the Borromean Islands are a must-see and make sure you stop in Stresa to take in the Museum of Dolls and Toys and the botanic gardens.
Another great destination for lovers is Lake Como. Considered by many to be the most romantic destination in northern Italy, the shorelines of Lake Como are lined with 19th Century Italian villas. You'll also find one of the most luxurious resorts in the world here, Bellagio, the Pearl of Lake Como. You may not be prepared to stay there today or tomorrow, but it should definitely be part of your plans for the future. Next Valentine's Day is only twelve short months away.