We're ready to usher in 2018 on our gorgeous Lido Beach in Venice, are you?  Come on and join us with a revitalizing splash in the chilly waters of the Venetian Lagoon with a couple of thousand other friends and get that adrenaline pumping!  It's a great way to begin a new year, with renewed vigor and a little icy dip!  We'll be there at 11:00 am until about 1:30 pm on New Years Day.  The days kicks off with a Viennese waltz and wraps up with wine, sausage, and lentils.  And, of course, excellent company!
If you like, we can recommend a fabulous lagoon tour that sails by the Lido, S. Elena Gardens, and San Giorgio Maggiore.  Our first stop is at the spot known for its colorful glassware, Murano.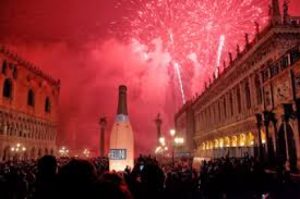 If you're thinking of something with a little more romance, be in Piazza San Marco at midnight on New Year's Eve for the customary, communal kiss!  Bring a mate, a friend, family, and neighbors; there will be plenty of Italians around who won't mind getting an extra kiss or two to start off the new year.
And, the best news, if you use our new GuidArt technology, you can take a tour of the following: Piazza San Marco, Centro piazza, Il Campanile, Basilica di San Marco and more with our audio guide.  And the technology can go home with you, no hassle returning it once your visit is complete!  This innovative technology will let you stroll the streets of Venice at your own pace and time.
If you want a bit more elegance, how do Mozart, Verdi, and Johann Strauss sound?  We think it sounds incredible at Venice's, Scuola Grande di San Teodoro with I Musici Veneziani, who will be attired in authentic Venetian costumes from the 18th century.  These 14 experienced musicians are joined by Vittoria Boldrin, soprano, Nico Mamone, baritone, and Massimo Cagnin, singing tenor.  Tickets for this upscale event may be purchased here.
You may also want to consider a midnight toast at one of our famous Venetian restaurants.  We can suggest a great food and wine tour that will deliver you to three bars for happy hour and some tasty Italian snacks as a prelude to your dinner date.  Our Galleon evening candlelit dinner trip in the lagoon, will both put you in the mood for romance and satisfy your craving for our incredible Venetian foods and wines.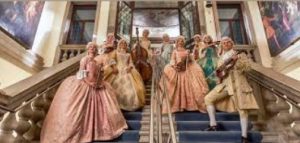 Another romantic way to wrap up your evening is our private gondola ride and serenade.  You can see our beautiful city on one of the world's most stunning boats with music and a loved one. Oh, la, la friends!
Greeting 2018 with these awesome events and tours will get your new year off on the right foot for an exciting year of travel, Italian style!  Welcome, 2018!