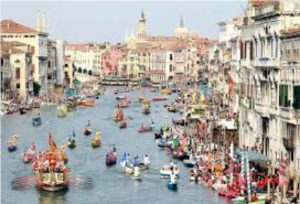 On September 17th, Venice will celebrate the last main rowing competition of the season. As Italy begins descending into the colder months, Venetians take to the water once more in a grand spectacle of athletic prowess and a demonstration of mastery of the ancient canals. The "voga alla veneta" (Venetian rowing) is a centuries-old tradition in Burano, an area of Venice. For hundreds of years it was the most efficient way to transport fish to nearby islands and to the population of Venice before the invention of the motor. The waterways of Venice have been the main veins of Venetian economic development over time. Explore the history of the watery city with a guided historical walking tour.
Today rowing is practiced exclusively for sport and is deeply honored in the Venetian lagoon. This is exemplified by the "Burano Regatta". considered by athletes, fans and enthusiasts to be the rematch of the Regatta Storica, or the historical regatta, which took place in the city only weeks prior. To get a feel for the athletic intensity of the sport, learn to row like a gondolier.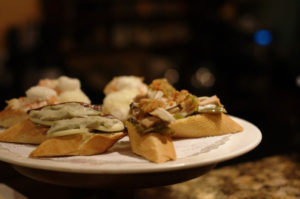 In celebration of the Burano Regatta, locals welcome tourists with outdoor stands, entertainment, and goods for sale. On this specific occasion Venetian restaurants stay close to their origins and offer age old fare typical to this region. Many Burano restaurants will be serving fresh, fried, local fish prepared in a number of ways. This will be located in the middle of the action at the Balsassarre Galuppi square, near the Church of St. Martin. To get a better taste for traditional Venetian cuisine, opt for a happy hour food and drink tour.
The Burano Regatta boats use a system of two separate oars for female competitors and one two-oared gondola for males. Those that competed and lost in the Regatta Storica are fighting to regain their reputation and take home a title before the close of the season. For your own taste of traditional Venetian boating, take a sail on a traditional boat, akin to what competitors will be racing on.
Have you ever experienced a Venetian Regatta? How do you imagine the energy may be different at this regatta as compared with others of the season, seeing as it is the last? Where in the city would you choose to watch the action from?