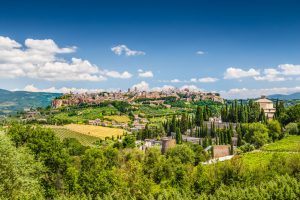 In the central region of Italy, Umbria is the only region that does not have a border with either another country or a coastline.  And, it's our next tour destination with Kathy McCabe and her Dream of Italy series.  Umbria, a Tuscany neighbor, is best known for panoramic views, marvelous foods, artistry, and its history and influence on culture.
Assisi is, of course where Saint Francis was born, and he is considered the patron saint of animals.  He also oversees this peaceful, serene area.  Nearby the University of Perugia beckons a younger, more lively crowd.
Join us for a day tour of Assisi and Orvieto, to enjoy some of the gorgeous architecture of the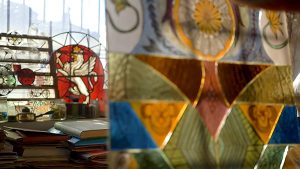 area.  Another tour provides enjoyment in Umbria and loops in a little Tuscany as well.  Yes, food and wine are involved!  You can also take a guided journey through the rolling green hills of Tuscany and Umbria and discover architectural and artistic jewels, as well as the ever lovely, Lake Trasimeno.
Women of the World
We meet two amazing women who are keeping old traditions alive and well.  Maddalena carries on the centuries-old art of making stained glass pictures.  And Marta works with looms from the 1800s to create one-of-a-kind textile products.  Both incredibly beautiful arts, artists, and results!
The Three C's
Chocolate, cheese, and chickpeas, what else?  Our next stop takes us to a chocolate school in Perugina, where the distinctly Italian Baci hazelnut chocolates are made.  Now, that is the best kind of school homework!
We highly recommend a terrific tasting tour of chocolate artisans in nearby Florence.  Chocolate makes life more fun!  And, Florence is only about two hours away from Umbria.
We also meet a farmer who produces multiple kinds of goat cheese and later, a chef who teaches Kathy how to make the flavorful simple, chickpea soup with pasta.  Favoloso (fabulous)!
Wine and Saffron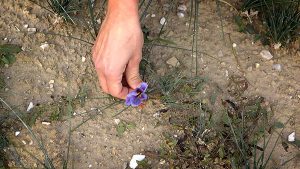 Finally, no respectable Italian trip would be complete without wine.  And in this region, we meet Marco Caprai, owner of the Arnaldo Caprai vineyard.  These wines are made with the native grape, Sagrantino.
If you want to broaden your wine horizons, this tasting tour in Montalcino is for you!  This charming town is famous for the Brunello wine, using Sangiovese grapes.
We also meet Marta Giampiccolo, who grows and harvests the delicate saffron flowers and teaches us how to pick nourishing wild greens.  You won't believe the price of saffron!
Naples is our next journey, be sure to visit us regularly for more insights into Kathy's expertise!
"Weekend in Italy is a proud sponsor of the PBS series, Dream of Italy, Season 2. Enter your zip code on this page for air dates and times on your local PBS station or view the entire series on DreamofItaly.com."