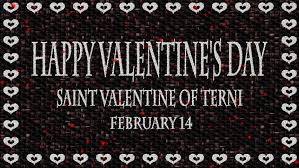 Calling all lovers!  Saint Valentine, a Christian bishop is known as the "protector of lovers" because he celebrated weddings by giving flowers to the couples.  He lived in Terni in the third century BC.  By the way, his remains are preserved in the Basilica in Terni and on the Sunday preceding Valentine's Day, couples who plan to marry in the current year visit Terni to participate in a Eucharistic celebration to make the promise to marry.  So, where should you be on February 11?  Terni, of course, and there are other reasons to join us there:
·      The St. Valentine's Fair on the 14th.
·      Cioccolentino Festival, yes that is chocolates, friends on the 12th through the 16th.
·      St. Valentine's marathon that includes a run past the Marmore Falls, an incredibly gorgeous sight on the 16th.
·      Assorted concerts, exhibits, DJ's and dancing.
Great fun is waiting for you and your mate.  Or if you're in search of a mate…there will be lots of folks to meet 'n greet!  Terni, the city of lovers, is in the Umbria region and while visiting, you will want to enjoy the fabulous food of the region.  We suggest a taste of Tuscany tour, which is an unforgettable food and wine event for your taste buds.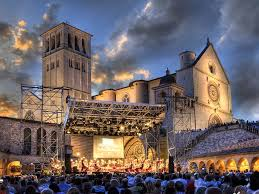 There is also a St. Valentine's Fair in Perugia, so don't miss the one-day excursion to this area that includes Assisi and the serene (and romantic) Lake Trasimeno.
In the Umbria region of Italy, you will hear mostly Italian language, plus some dialect variations in remote areas.  One of most beautiful places to see, Umbria is filled with panoramic scenery and luxury villas that are amazing sights.
Remember the Richard Gere/Diane Lane movie, Under the Tuscan Sun?  You can visit the site where that heart-breaking romance was filmed and enjoy the rolling green hills with your betrothed.  This tour also includes visits to Assisi and Cortona where you can become enthralled with the artistry surrounding you, in every direction.
No good holiday would be complete without some great Italian legends.  We all know of San Valentino and his iconic language of love.  It's believed that he was in love with a blind girl who visited him frequently while he was imprisoned, and she brought him messages and flowers.  Valentino prayed her sight would return to her and it did, just a few days before he died.
In another legendary tale, he sent doves to interrupt, and calm a lover's quarrel, hence the association with lovebirds.
Rome is less than two hours away from Terni, and as you may imagine, there is an abundance of art and history in our beloved eternal city.  There is also a train that will deliver you to Rome from Terni.  How about the romance of a great Italian opera in the Throne Hall of the Palazzo Doria Pamphilj?  The venue alone is magnificent, add in some arias and love duets, and you have the perfect evening for lovers of all ages.
Buona fortuna in amore amici!  Good luck in love, friends!