A beautiful two-hour trip from Rome, Abruzzo on the Adriatic coastline awaits with lots of pride and tradition.  We're taking another trip with our friend, Kathy McCabe of the Dream of Italy video series.  Watch her series on the Dream of Italy site, to learn more insightful details about our intriguing Italy!
While you may not have heard of this lovely and charming area, once you see it, you will absolutely fall in love!  Strong and gentle is the motto of the region, known for its incredible national parks and nature reserves.
While Venice is a little further than Rome from Abruzzo, it is another way to enjoy the beautiful southern lagoon area.  You can also choose from two itineraries.
Let's Get Fresh
We know you've seen the stilted fishing huts in different pictures and places, but have you eaten a fresh seafood meal in one?  This area has turned a former hut into a gourmet restaurant, where the seafood could not be fresher, it's caught right from the hut!  Chef Lucca's delicious delights can be found at the end of the trabocchi.  Watch the series to learn more about trabocchi, then plan a visit to Chef Lucca!
Vasto, another location known for its secluded beauty, attracts monks, saints and some who enjoy its serene solitude!  Here you'll find an abbey dedicated to the Goddess Venus, a multitude of olive groves and a perfect mix of a proud Italian tradition that intersects with some modern features as well.  You may want to bring your dancing shoes (hint, hint).
Heading a bit inland, Umbria and the lovely Tuscany Valley isn't too far from Abruzzo.  Fabulous day trip tours are available to Assisi and Cortona, more excellent, quaint towns and views that will take your breath away.
Donkeys, Snakes, no Bears, Oh My!
While Kathy visits Sulmona, she visits and innovative doctor who is successfully using donkeys to help individuals with high stress and disabilities.  Ahhhhh, peaceful therapy!  We know you've had the confetti candy that has been made in this region for more than seven generations, but you may not have had ca'ffeto.  It is only available in Sulmona, come check it out! You can guess by its name what it's made from, si?
Are you familiar with the snake festival in Cocullo?  Yes, in honor of their patron saint, Saint Domenico di Sora, townspeople and thousands of visitors wrap snakes around themselves and the statue of the saint as it is carried through the town.  The snakes are unharmed and returned to the wild after the festival.
Another terrific trip is to Tuscany and Umbria for a taste of Italy.  We are proudly known for our music, art, history, and architecture, but you know that dreaming of Italy must include our fabulous food!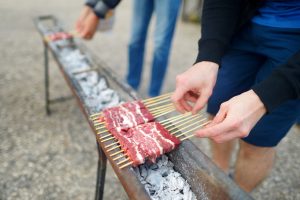 Capistrano
Capistrano is our next stop, and we learn about the archaeological dig there where the statue of the warrior of Capistrano was found.  Such delicate work to ensure that no harm comes to any found remains or tools from the past.
We mentioned earlier the opportunities for nature hikes and travels in the more than 40 national parks and reserves.  Are you familiar with arrosticini?  In this area, hikers and travelers of all kinds can stop at a roadside café and prepare their own arrosticini on the brazier outdoors in this gorgeous countryside.  All we'll tell you is that the area celebrates the traditional sheep migration, and Kathy will teach you about arrosticini preparation when you watch the series.
Rome
We don't want to say we've saved the best for last because it's all grand!  However, we can't end until we share a little of our Eternal City of Rome.  So many things here to enjoy and learn!  The Vatican museums and gardens, the Colosseum, the Borghese Gallery, and that doesn't even begin to cover Rome!  Check out our wine and cheese tasting, take a fettuccine alfredo cooking class, tour mystical, medieval castles, do some sightseeing, shopping, or just leisurely stroll with our hop on hop off 48 hour bus, see Michelangelo's Sistine Chapel, take a tour by bike, or by Vespa.  The list goes on, and on.  By the way, Kathy has a great episode on Rome!
Pack your bags friends, come and enjoy this "Abbruzzian" paradise with us!  We promise an unforgettable experience!  See you soon, where past meets presents and dreams of the future!
"Weekend in Italy is a proud sponsor of the PBS series, Dream of Italy, Season 2. Enter your zip code on this page for air dates and times on your local PBS station or view the entire series on DreamofItaly.com."