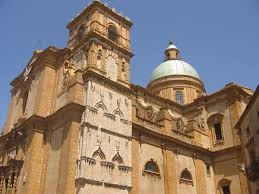 The Almond Blossom Festival of Agrigento (Festa del Fiore del Mandorlo) is one of the most famous events in Sicily.  Yep, pun intended, the town goes nuts!  Celebrating 63 years of the festival, make your plans now to be in Sicily February 4 (always the first Sunday in February), and join the fun.
One of the first things you will notice in Agrigento is that all the buildings face east.  Why?  It's a show of respect to the Greek and Roman Classical principle that the entrance to the cella (Holy of Holies) where the statue of the god was housed could be illuminated by the rays of the rising sun, which represents the source and blood of life.
Plan to visit the Piazza Armerina, a beautiful testament to the area's varied history, and another UNESCO site (along with Agrigento).
The almonds begin to blossom while it's still a bit cool in the area in early-February.  Tis the season for almond marzipan pastries (pasta reale), YUM!  Marzipan in Sicily are works of art!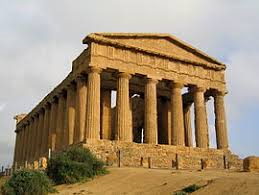 Agrigento was founded by Greek colonists in 6 B.C. and is home to five ancient temples: Concordia, Juno, Jupiter, Hercules, Castor and Pollux (aka the Valley of Temples).  Each one, a lovely landmark that provides an amazingly sunny backdrop for the Almond Blossom Festival.
March will usher in average highs in the low 60s and lows in the low 50s.  While Sicily is part of Italy, they mostly speak Sicilian, which is a bit different from Italian.  Some consider it a dialect of Italian and others consider it a different language.  A beautifully diverse language that is representative of its history, Sicilian is a mix of Greek, Latin, Aragonese, Arabic, Lombardic and Norman-French languages.  In the larger towns, you will find some English-speaking Sicilians; however, in the more remote areas, you should expect to communicate in Sicilian.
The culture is full of great food, fabulous art, and a festive atmosphere.
And there's more!  One of our favorite ways to spend the day is in a classic Fiat, following a lead car into locations where The Godfather II and III were filmed.  We visit two charming villages, Savoca and Forza D'Agrò.
With the weather warming, you can also select one of five bike tours of Palermo.  Each tour is three hours, so go ahead and book more than one to enjoy, during your stay.  Palermo is about 90 minutes northwest of Sicily, and it sits on the gorgeous coastline of the Tyrrhenian Sea.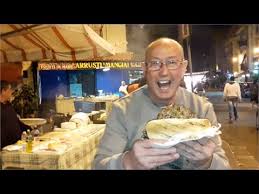 A visit to the island is incomplete without a cooking class, complete with shopping at our fabulous fresh markets.  And about food, Palermo has some of the best authentic street food around.
Just north of the mainland, sail with us to Panarea to the Bay of Calajunco, and the invigorating Zimmari beach.  After that, we'll make a pitstop at Porto San Pietro.  This is a fun opportunity for some diving!
You will most likely find us marveling over the almond marzipan samples!  Please stop by and say "bon jornu." And bring your dancing shoes, we're having a party!