Each November on the second, third and fourth weekends, San Miniato celebrates truffles with a Truffle Festival.  You can count on great entertainment, food, shopping and oh yes, truffles!  The scrumptious white truffles are considered more valuable than the more common black truffles and sell at a higher price.  Harvesting of white truffles happens in San Miniato.  The dates this year are weekends November 11th, 18th and 25th.
Since the festival is only about 30 minutes from Pisa, a great way to arrive in Pisa is by way of the Four Tuscan Jewels tour.  This tour of Siena, Monteriggioni, San Gimignano and Pisa comes with a private chauffeur.  What a delicious luxury!
San Miniato is a small town in the Pisa province and the Tuscany region.  Its location atop three hills has historical strategic significance because it dominated the Egola and Elsa valleys as well as the lower Amo valley.  During Medieval days, the area was a principal place of an abundance of travelers, both friendly and hostile because it was located at a main connecting intersection between Northern Europe and Rome.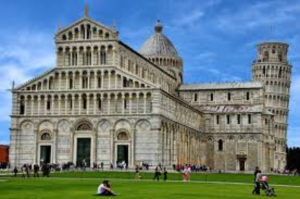 It can't be a surprise to anyone that we highly recommend a visit to the infamous Leaning Tower of Pisa during your weekend trip.  Be sure to get your workouts in so you will be ready to climb the 294 steps to the top of architectural wonder.  Once at the top, an awesome bird's eye view of Miracle Square awaits.
Once you have seen the wonder of the tower, join us where heaven meets earth at Cathedral Square for fabulous panoramic views.
While you're in San Miniato, they have several treasures you will want to see, including the Tower of Frederick, which was destroyed by the Germans during World War II when it was used as a gun sighting tower.  It was rebuilt in 1958.  The Tower of Niccolo tour grants you the most serene and pretty views of Florence and the surrounding area.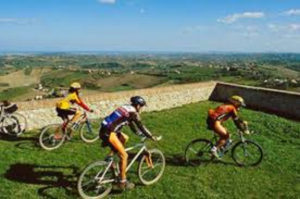 Since the Truffle Festival lasts three weekends, make it a point to book some added side trips each weekend.  You can enjoy VIP treatment on a healthy day-long bike tour of Val d' Orcia Knights.  You also get a cooking class and banquet.  You can't leave the incredible Tuscan countryside without a taste of Italian cuisine.
Bring your sweet tooth and some friends and book your visits today.  We'll plan to see you on the bike trail after we have overindulged in white truffles!