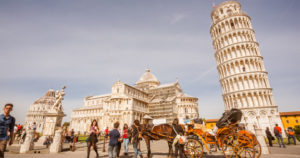 On the typical Italian's calendar of events, one is apt to find a heavy trend toward festivals which, for one reason or another, are geared primarily towards adults. The town of Casciana Terme, however, includes a main annual event for the children of the town and its surrounding festivals. That's why, toward the end of August each year, the town celebrates its patron saint with a huge kid-friendly weekend. The patron saint, San Genesio, is celebrated each year, for the past 55 continuous years, with a three day festival in which children symbolically take over the town. For those three days, from August 23rd through the 25th, there are fairs, rides, games, clowns, and workshops to entertain and delight the Italian children that come to take part.
Explore all of the surrounding Tuscan gems from which the attendees of the San Genesio festival are visiting with this full-day Tuscan exploration. This will offer you a complete view of the various villages and landscape that makes Tuscany so unique and such a perfect setting for a festival such as this one. If you don't happen to be traveling with children, this is also a great place to explore fine Italian wines. Following your Tuscan exploration, delve head first into Italian wineries with this Tuscan Wine Trail tour.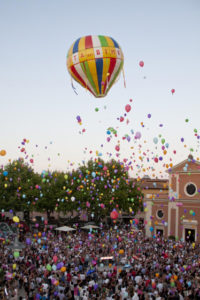 Not only are opportunities for fun ample throughout the weekend, but so are opportunities for intellectual stimulation. There is a street filled with book making and reading, writing and design competitions, and opportunities for kids to explore their creativity and ingenuity. We know that finding fun opportunities for kids while traveling can be tough. If you'll happen to be traveling with your kids in Venice, try seeing the city from their perspective with a kid friendly walking tour for the family.
The end of the festival features the traditional and highly anticipated launch of the hot air balloon. The colorful hot air balloon rises directly above the main Piazzas and is a symbol and icon of the festival. It has been launched each year since the festival itself was brought into existence 55 years ago. The launch of the rainbow colored balloon, bearing messages of peace and goodwill, carry the greeting of Casciana Terme and children of San Genesio to far off lands. To get a bird's eye view of Tuscany from a hot air balloon, just like the one at the San Genesio festival will, opt for your own hot air balloon ride!
Have you ever been to an Italian Children's Festival? How do you think the experience would be if you did not have kids with you? Which Tuscan villages have you had the opportunity to visit so far?