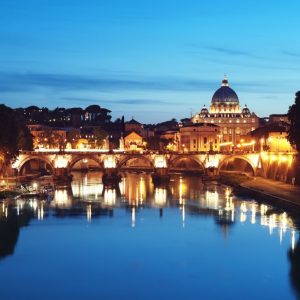 The answer: Over 2,000 years of incredible history, magnificent mosaics, frescoes, and so many other art forms and architecture.  The question: What is the Eternal City of Rome? And, by the way, that answer above is a gross understatement of Rome.  This is a city you will never forget, and you can never see enough!  Yes, we are once again taking an entertaining and informative tour with our dear friend, Kathy McCabe at Dream of Italy.
Arts
The amazing amount of delicate work that goes into making a mosaic will make you gasp in awe.  Today's mosaics can be made of many materials like stone, colored glass, beads or shells; however, Nadia Ridolfini shows us how to make these works of art from marble, each tiny piece broken apart by a small hammer and skillfully put together in fantastically beautiful ways.  One of the many places to see frescos and mosaics in Rome is the Roman Domus Of Palazzo Valentini.  Currently, under some redevelopment efforts, you can get a glimpse into the old Medieval and the new modern.
1.     It is indeed a felony violation (wink, wink) to visit Rome and not see the Vatican Museums, Sistine Chapel, and Saint Peter's Basilica.  Absolutely one of the most famous places of culture in the world, the Sistine Chapel is where the conclave for the election of the popes and other solemn pontifical ceremonies are held.  Its ceiling and altar wall are ornately decorated by the great artists.  The frescoes by Michelangelo were commissioned by three different popes at very different times in the history of Rome and in Michelangelo's life.
We also have the pleasure of meeting the well-known street artist, Alice Pasquini, who shares her work and how she brilliantly weaves it into existing locations to blend in so well, you won't see the fixtures attached, like breaker boxes, etc.  A wonderful contrast to the ancient art of mosaics, and graffiti.
Food
What food do you think of first, when you think of Italy?  For us, it's pasta, pasta, and more pasta!  Kathy peeks in on some street markets along with deli owner Alessandro Volpetti.  Here you feel at home and just like an Italian citizen!  Fantastico!
Next, we learn the correct way to make that creamy Italian gelato.  Don't be fooled by imposters!  Gelateria del Teatro ai Coronari, is the real deal, serving mouthwatering, genuine gelato.  We'll take a cone (or three) to go, si prega (please)!
Finally, the Di Felice brothers, owners of Da Enzo, teach Kathy to make Rome's famous dish Cacio e Pepe.  It's a sensational, simple recipe consisting of cold water, pepper, pecorino cheese, a little bit of heart and lots of love!  And if you follow Kathy's method, toss in a couple of handsome Italian gentlemen and let them do the cooking!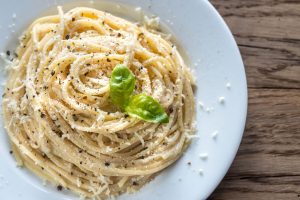 Speaking of pasta, you will adore this Roman pasta cooking lesson opportunity!  A Master Chef will disclose secrets to creating three types of classic Roman and Italian pasta dishes.  Tasting and eating your own creation is, of course, part of this experience!
1.     If you have a fetish for Fettuccine Alfredo, this cooking class and lunch will leave you wanting more, but just too full of a tummy to manage more!
You can't go wrong with multiple visits to this marvelous city, and the greatest empire ever known.  Kathy makes a final stop in the 18th century to attend a grand ball with Nino Luca in Palazzo Brancaccio.  The ball is performed three or four times a year by Campagna Nazionale di Danza Storica, and you really must watch this season one episode to see not only this elaborate location, but also the lovely attire, and the magical music of the day!
See you soon!
"Weekend in Italy is a proud sponsor of the PBS series, Dream of Italy, Season 2.  Enter your zip code on this page for air dates and times on your local PBS station or view the entire series on DreamofItaly.com."