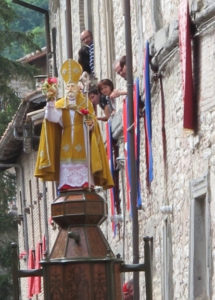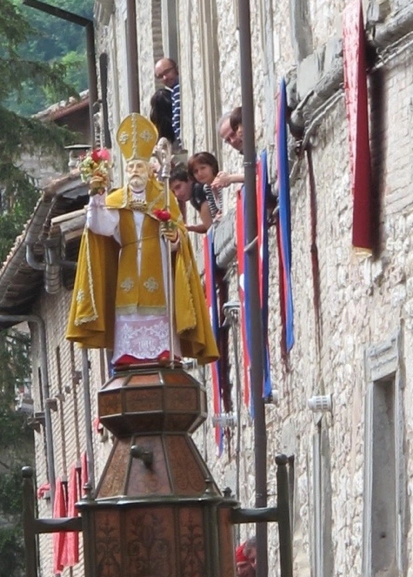 On the first Sunday in May each year, for the past thousand or so years, residents of Gubbio, the small hill town in the central Italian region of Umbria, engage in one of the most lovably bizarre traditions in the world. Since ancient times, the people of Gubbio have been commemorating the passing of their beloved bishop and patron saint, Ubaldo Baldassini, with a mad dash up a hillside to the Basilica of St. Ubaldo. Adorable hill towns are a signature of this quintessential Italian region. If you'll have a full day at least in the region (definitely worth spending some time in Umbria), try a guided trip through a few of the most famously enchanting hillside towns. Although the tradition has evolved consistently over the centuries, what once started as a procession to bring wax candles to a bishop's resting place has become a boisterous event where hundreds of local men carry enormous wooden structures weighing over 300kg while large crowds cheer them on.
Dressed in a uniform of white linen pants and a red sash tied around their waist, the men of the procession demonstrate which saint they're representing with different, brightly colored shirts. The three patron saints around which the day is centered are Ubaldo for Bricklayers, Giorgio for merchants, and Antonio Abate for the farmers. Keeping these saints in a position of honor and esteem is one of the only consistencies of the holiday since its inaugural years. One of the loveliest parts of the tradition is its commitment to honoring the patron saint of the town. Italy's love of tradition is evident in this procession and many others. If you'll be in Rome, find out how tradition is deeply woven into Italian culture with a guided visit to a few of the city's most famously traditional spots.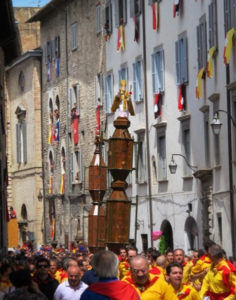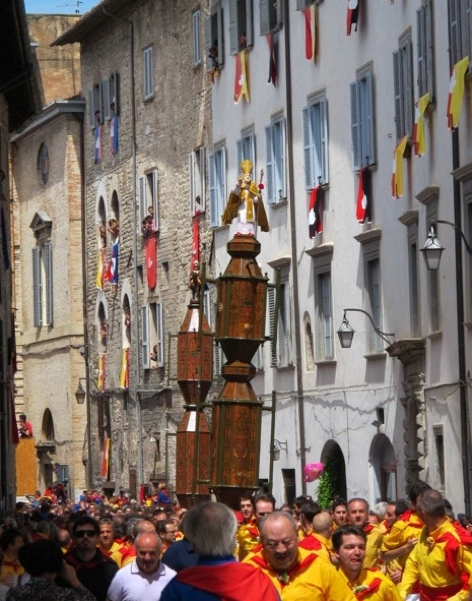 As the men make their way up the steep Gubbio hillside they must navigate the euphoric crowds. Once they complete their four kilometer route, the men lower their enormous candle-like structures into an underground portal at the Basilica of St. Ubaldo. Although it may look an easy feat, the men fortunate enough to be the candle-bearers have trained, often for years, for this esteemed role. In fact, since families often stay in the same town for generations, it is common for a father to train his son in the craft of candle-bearing and for his son to take his place in the procession when he comes of age. If you're excited to be exploring this ancient hilly region, spending a bit of extra time in Assisi is a definite recommendation. Explore this Umbrian gem with a day trip from the city. With so much to see, do, and learn in the beautiful region, this guide book with photos and helpful tips makes an excellent companion.