Puglia is one of the most charming places in Italy.  It offers beautiful, sunny beaches, farms that have been in operation for centuries and a slower pace than some of the busier regions in Italy.  You will find this gem tucked away in the "heel" of the iconic Italy boot shape.  This lovely, sleepy town is home to one of the oldest carnival celebrations in the world, the Putignano Festival.  Records indicate that the carnival dates to December 26, 1394.  And so, it begins, on December 26 each year, the longest running party, which lasts for about two months kicks off and invites the world to visit.  The carnival won't end until Shrove Tuesday, February 13, 2018.
Before we share more about the carnival and its origins, when you visit Puglia, one of the must-see areas is the incredible Salento coast.  This tour will take you to the end of Italy in the lovely, quaint town of Leuca.  You'll see olive groves, cliffs, and experience cuisine that is unlike anything you've eaten before.  Your taste buds will be dancing with joy!
Another jewel in Italy's "heel" is Polignano A Mare, where white homes overlook the cliffs to the blue Mediterranean Sea.  The area is home to Domenico Modugno, singer, songwriter, and actor, you will recognize him as the man who sang "Volare. "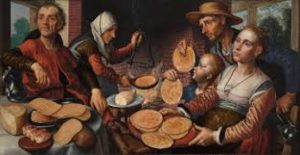 Okay, sorry for the little sidestep there, but the beauty of the area will make you feel like you're living in a dream.
Back to Shrove Tuesday, which is the day preceding Ash Wednesday.  It is traditionally considered "pancake day," and the last day before Lent, the fasting season.  It's the Italian version of Fat Tuesday and Mardi Gras, so well known and celebrated in the United States.
Methodists, Anglicans, Roman Catholics and Lutherans recognize the day as a time for looking deep inside yourself to determine what sins need to be repented and how they expect to change their lives to improve spiritual growth with God's help.
The Knights of Malta first brought the remains of St. Stephen into the area, from Monopoli to Putignano.  The initial event was in 1394 to protect St. Stephen's remains.  The town and its people stopped working for the religious procession and then celebrated with lively music, dance and satirical readings.  Since then parades and more entertainment have been added.
Puglia is also known for it's historical and modern craftsmanship and you can tour the panoramic coastal sights as well as enjoy handmade articles of stone, ceramics and more.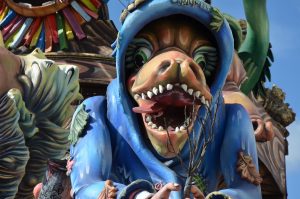 Please don't leave the area without visiting Lecce, the art and handmade crafts will amaze and inspire you with fun and creative juices.  It's baroque architecture, and timeless energy and friendliness will keep you coming back for more.  Don't leave without grabbing some of their incredible street foods and Pasticciotto, a traditional Lecce cake.
When all of this comes to a sad end, and you have to return to your homes, plan to come back again in the warmer months to enjoy a summer version of the same Putignano carnival.
You may find us making our papier-mâché masks in any of these glorious locations, bet you won't recognize us in the parades!  See you soon!