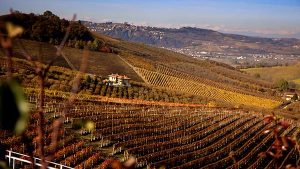 Hello and welcome to Weekend in Italy, and Kathy's McCabe's Dream of Italy series.  This week's tour includes Piedmont, a truffle auction along with truffle hunters, a particular grape, hot springs and more!  Let's get started!
The Piedmont Region lies in northwest Italy and borders Liguria to the south, Aosta to the northwest, Lombardy to the east and both France and Switzerland to the northeast.  Turin is the capital of the Piedmont Region.
There is an abundance of things to do and see in Turin.  You may recall that we all fell in love with the area when the 2006 Olympics were there.  You can join us for two, three or five days in Turin and Piedmont, enjoying museums and economical public transportation.
You will not want to miss our magical mystery tour of Turin either!  The city is believed to possess two souls: one linked to white magic, the other to evil black-magic.  Let's explore the darker and more sinister heart of the city, among angels and devils, scary stone monsters and sinister architecture together.  We may need some hand holding!  Yikes!
Truffles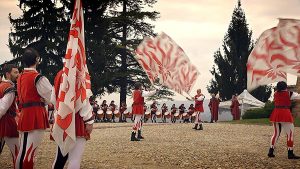 This fun and exciting episode kicks off at Castello di Grinzane, Cavour with some toe-tapping drum music and flag twirling.  The performers are welcoming friends to a charity truffle auction.  Once inside, you will not believe the funds raised from the sale of these elusive, unusually shaped creations.  Exactly what is a truffle?
Watching Natale, Giorgio and their two dogs, Dianna and Brio search for the treat in the woods is most interesting.  Truffles grow underground and have no visible signs of existence above ground.  In addition, they have never been successfully cultivated.  The dogs expertly sniff out this prey and then dig in secret hunting ground areas to reveal the treasure.  The auction is a major social event in Langhe.  These adored mushrooms are most commonly grown in Alba and Asti.
The city of Asti is about 34 miles east of Turin in the Tanaro River region.  It is an important center of Montferrat, a UNESCO World Heritage Site since 2014.
Nebbiolo Grapes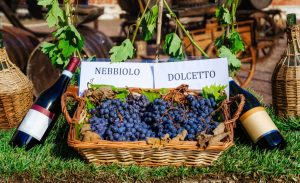 On our next stop, we arrive at Cascina Bruciata where we learn about the native grapes grown in vineyards around Asti.  They include Nebbiolo, Barbera, Freisa, and Brachetto to name a few.  Here the soil is managed organically to produce the Nebbiolo, "grape of the fog," for use in Barolo, Barbaresco and Barbera wines.  If incredible Italian wines interest you, then follow us to discover the most famous wineries in the Langhe-Roero and Monferrato areas.  Meet the owners and learn the secrets of their wine production.  And of course, a little tasting!
The Piedmont area is a highly fertile agricultural mecca.  Here we raise or grow maize, fruits, milk, and livestock, all of which contribute to the local and national economy.  As you may expect Italian is the official language; however, you will also find several different dialects in some corners.  The luscious Alps act as a protective barrier to many areas because they block some of the harsher northern Italian air.  At the foothills of the Alps, you can find another hidden paradise, Canavese.  It is a beautiful natural gateway between the Italian peninsula and Europe and has acted as a crossroads for armies, merchants, and pilgrims tracing the routes of the Via Salaria and Via Francigena through the valleys of Mont Blanc and Graie Alps to reach Turin.  Plan to spend a delicious five days enjoying great foods, wines, cured meats, cheeses, the Savoy Castle and so much more!
Finally, let's obscenely indulge ourselves in Acqui Terme at the Lago delle Sorgenti.  You will ooohhhhhh and ahhhhhhhhh all day long enjoying the curative hot springs with an Asian influence, the meditation pool, and the gong room.  We can feel ourselves relaxing already in this former 16th-century palace.  You may also find a few romantic spots hiding in the spa as well (wink, wink)!
Rilassati, e goditi l'italia (relax and enjoy Italy).  Book your trips today, why would you delay?  Great wines, foods, friends, tours, conversations, beauty, history and mystery….get busy!
"Weekend in Italy is a proud sponsor of the PBS series, Dream of Italy, Season 2. Enter your zip code on this page for air dates and times on your local PBS station or vie