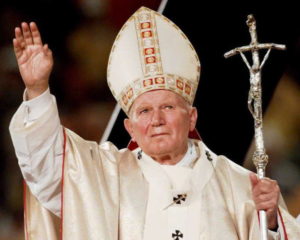 Italy is a Catholic country that observes Lenten fasting. It's very different from America, where you have a melting pot of different faiths and ethnicities. Though there are different cultures and nationalities represented there, the nation is predominantly Italian born (94%) and very Catholic, so it's important to understand everything that goes along with that. During Lent, you may find that certain foods are frowned upon, particularly on Fridays.
If you live in America, you've probably been exposed to "giving something up" for Lent. This is a common practice for Catholics and Christians throughout the world, along with not eating meat on Fridays. In Italy, even the younger generation observes these Lenten fasting rules. For the older, more traditional Italians, fasting during Lent means no meat at all, any day, and no sweets or chocolates. Keep that in mind while ordering in restaurants, especially if your host is an older Italian.
A Short List of Italian Fish Dishes
In order to remain "compliant" with Lenten fasting rules, you'll want to know what's good to eat, particularly if you haven't had any non-meat dishes in Italy. Lentil Soup and Minestrone are good choices if you're looking to go light and vegetarian, but what about a substantial sit-down meal? Here's what we recommend: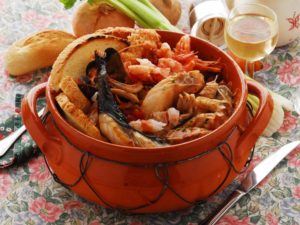 Cacciucco alla Livornese: This dish was originally served in the port city of Livorno. Fisherman there would take whatever fish was leftover after they sold their daily catch and turn it into a soup or stew. You'll find that this local Italian dish never tastes quite the same each time, as the types of fish used vary based on the season and where in the country you're ordering it.
Baccala and Potatoes: This dish is served throughout the country, but it has a distinctly Sicilian flavor to it. Baccala is salt cod, which is baked with potatoes, fresh tomatoes, olives, scallions, grated cheese, olive oil, salt and pepper. It's delicious when prepared correctly (the cod should be soaked in fresh water for at least twelve hours), but extremely salty when done wrong. Be sure to get a recommendation from someone local before ordering this in a restaurant.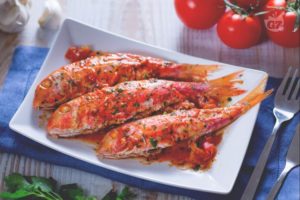 Triglie alla Livornese: Another Tuscan treat, reef mullets are smaller fish that are cooked in a tomato sauce with garlic, chopped parsley, olive oil, salt and pepper. There are some variations on this recipe, but for the most part it's fairly consistent throughout the country. It is best of course in Livorno, where it originated.
Pan Pesce: If you're looking for something simple to get you through an afternoon of Lenten fasting, try the Genovese creation called Pan Pesce. You can easily prepare it yourself if you know how to make (or buy) dough. The literal translation is "fish bread" and it is exactly what it sounds like: fish, baked into bread, with parsley, oregano, and olive oil. Click here for an easy recipe.
Pizza is an Acceptable Lenten Fasting Dish
In case you were wondering, yes, pizza is a very acceptable dish during Lent, but only if there's no meat on it. If you are a pizza lover, check out the "Pizza and Gelato Making" event at Weekend in Italy. It takes place in Florence and you can book it right from our website. Learn to make your own pizza from real Florentine chefs and have a fun day out with your entire family.