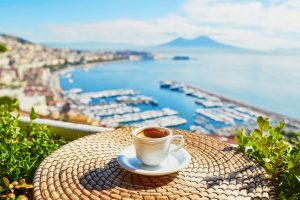 One of the oldest continuously inhabited cities in the world, our noble city of Naples was sadly the most bombed city in WWII.  It has been inhabited for the last 2,500 years beginning with the Greeks in this beautiful city by the Amalfi coast.  Our friend, Kathy McCabe gives us some great insights and info into Neapolitans and their many loves and valued traditions.  Let's Dream of Italy!
If you care to enjoy shopping while in the area, there is no better place than La Reggia Designer Outlet.  They offer discounts up to 70 percent off, and these are designer products.  Get there before we do, we might wipe out all the best stuff!
Sewing with Espresso
No, drinking coffee and hand sewing incredibly fine quality men's suits aren't typically things you would mention in the same sentence.  But since they are both unique to Naples, we're going to put them together.
We begin our day with Kathy at a historic café, Gran Caffe Gambrinus.  They offer what is the best espresso around, made with water, air and all the energy that comes with this bustling city.
Kathy then takes us on a tour of the Rubinacci shops which are part of what has made Naples so well known for exquisite tailoring.  Mr. Rubinacci continues to carry on the tradition his grandfather began, making comfortable, soft, well-manicured men's clothing.  It takes an estimated 40 to 50 hours to complete just one jacket and years to learn the trade and technique.  Just watching these tailors at work is awesome!
Pizza and Paper
It's impossible to think of iconic Italy without thinking of a fabulously fresh pizza.  Think they are easy to make?  Here's a hint, there is a school in Naples where you learn to make the perfect pizza from the freshest handmade dough to the sauce and toppings.  Just check out this video with master Enzo Coccia to learn about the simplest pizza and the most amazing process to make them.  It begins with the perfect ball of dough.
Next, we visit a street market that once only specialized in Christmas items, but has now broadened into celebrity caricatures and other hand carved and painted keepsakes.  This family business is 130 years old.  As cherished as this tradition is, the items for sale will become family heirlooms for every buyer to pass to future generations.
If you want the very best paper for your wedding invitations, thank you cards or other correspondence, go no further than Cartiera Amatruda.  At this shop, they still take painstaking steps to create each page of the natural paper, from pulp to sheer elegance.
Vesuvius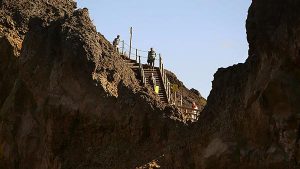 If you need a quick brush up on your history, Mount Vesuvius is about 25,000 years old.  The last eruption was in 1944, and it has only erupted 18 times in the past 300 years, and more than 50 times total.  We meet a Vesuvius expert and guide, Roberto Addeo who updates us on what we need to know.  Most of us remember the best-known story of the eruption in A.D. 79 that destroyed the cities of Pompeii and Herculaneum.
Despite its destructive history, the ever-looming Vesuvius has also brought some blessings to the area.  Its lava and ash offer rich minerals for nearby orchards and vineyards.  It is one of the reasons that more than 700,000 people opt to live in the "red zone" area.  This area and its inhabitants are the most likely to risk devastation, should Vesuvius erupt again.  As a matter of fact, more than four million citizens and visitors could be exposed at the next eruption.  It's been over 70 years since she last erupted, will she blow again?  Watch and learn more!
Spend a fabulous two days visiting Pompeii, Sorrento, and Capri to take in the lovely beaches and coastline.  You can also visit the Pompeii Archaeological Area to learn more about the city's history of arts, and architecture.  Wine and a luscious lunch are available on our Pompeii For Gourmets tour. Being a gourmet is not required, loving to eat is a bonus though!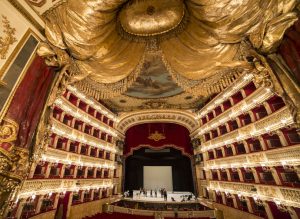 And we have just grazed the surface of the information that Kathy shares in this fun episode.  Learn about the emotional tradition revived by a former POW and his grandson.
Learn about the thirst quenching limoncello and go fishing with local Costabile Laudano.  Later, enjoy a cooking demonstration with Chef Christoph Bob and the fresh catch!
One of the best ways to relax and fall in love with Naples is our Panoramic City Tour and Naples Historical Center.  Plan to kick off your day with a visit to "Monumental Naples" on foot, starting with magnificent Plebiscite Square to see the facade of the Royal Palace and the beautiful neoclassic church of San Francesco di Paola.  Your guide will then take you to the Gallery Umberto I (an elegant art nouveau building), followed by the Royal Palace and San Carlo Theater, one of the world's most famous opera houses.  And that isn't all!  Hop a bus for a tour and then visit more historical sites.
More on the amazing and lovely Amalfi Coast next time!  Non vedo l'ora di rivederti (can't wait to see you again)!
"Weekend in Italy is a proud sponsor of the PBS series, Dream of Italy, Season 2. Enter your zip code on this page for air dates and times on your local PBS station or view the entire series on DreamofItaly.com."