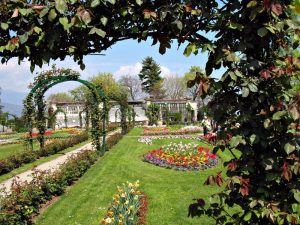 Just south of the awesome Alps, Lake Maggiore is the second largest lake in Italy, extending about 40 miles.  The weather is conducive to Mediterranean vegetation, and elegant exotic plants.  There are several well-known gardens in the area including the Alpinia Botanical Gardens.  Lake Maggiore is also home to the Stresa Festival, a primo event for the area, which began in 1961 when aristocrat Italo Trentinaglia de Daverio (Venetian attorney at law) began the tradition.
This melodic festival brings internationally famous groups and individuals to perform in churches and other facilities near the lake.  The festival lasts from July 14 to September 9, so you have plenty of time to enjoy both the music and the beautiful area.
One of the ways you can capitalize on your trip is to join us on a Lake day tour.  It is the best way to take in all the natural beauty at the corner of Italy and Switzerland.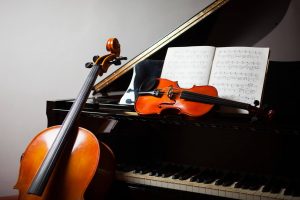 With 30 concerts in the season and through the excellence of cultural collaboration, you will enjoy classical music at its best, including Bach, Puccini, and Haydn.  More modern composers aren't left out either, consider Gershwin, Morricone, and Piazzolla.  Pardon our major name-dropping (wink, wink).
If you'd like to learn more about the 2018 program, check out the Stresa website.  The line up is both impressive and exciting!
In keeping with the lake theme, another gorgeous body of water is Lake Como.  After an evening of classical music, can you think of a more romantic place to be?  We sure can't and Lake Como, with its majestic surroundings, will not disappoint!
You're also going to be super close to Milan (about 90 minutes away) and you will want to take advantage of the following great opportunities:
·       If shopping is your thing, then our Serravalle Designer Outlet Shopping Tour was made for you.  Complete with savings up to 70 percent off.  Pick up a new outfit or two for the 2018 concert season.
·       Perhaps you would enjoy a visit to our Maison Milano Dinner Show.  Filled with a live Cabaret show, this cosmopolitan night awaits your presence!
Finally, no Italian trip can be complete without indulging in our fabulous foods and wine.  Enjoy a wine tasting journey, or a fun food walking tour with family and friends.
And for any trivia buffs, did you know that Lake Maggiore was included in American writer Ernest Hemingway's novel A Farewell to Arms?  The protagonist (Frederic Henry) and his lover (Catherine Barkley) were required to cross the transnational border via the lake, and in a rowboat to escape Italian Carabinieri.  And now you have some interesting information to share at the concerts!
And any good post deserves a little scandal, si?  In 1936, a Bugatti Type 22 Brescia Roadster, built in 1925, was "drowned" in the lake by employees of Zürich architect Marco Schmucklerski. Swiss customs officials were investigating whether he had paid taxes on the car.  The Bugatti was attached to an iron chain making it possible to recover it once the investigation was over, yet that never happened.  Of course, over time, the chain rusted, fell apart and, the car sunk to the lake's bottom, where it remained until August 1967.  A local diver by the name of Ugo Pillon is credited with the discovery of the sunken treasure.  It became a favorite diver target.  When one of the divers, Damiano Tamagni, was killed in a robbery in February 2008, his friends from the Ascona divers' club decided to lift and sell the car to raise funds for a foundation named after Mr. Tamagni.  The remains of the Bugatti were recovered in July 2009.  The sale took place at the Retro Mobile classic car exhibition in Paris in January 2010 and the car sold for 260,500 euros.
Ci vediamo ai concerti (see you at the concerts)!