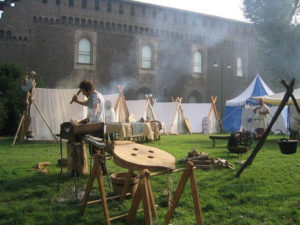 If you want to experience a Medieval Festival filled with colorful costumes, traditional Italian cuisine, and breathtaking historical reenactments, the Celtic New Year is an ideal trip for you to book this fall.  Taking place in Milan's famous Castello Sforzesco venue, this celebration occurs during the weekend of October 27th through 29th.  The castle compound is, at any time of year, an incredible place to visit while in Milan.  With acres upon acres of lush green gardens and historical architecture that reminds you of Milan's colorful history, the castle grounds are open to visitors daily between 7 am and 7 pm, depending on seasonality and special events.
Check out the Sforza Castle any time of year with this admission pass, and discover why this location is regularly used for some of the most exciting events on the Milanese calendar.
The Celtic New year is a unique event that delves into the little-known history of Milan's interactions with the Celtic people during the Middle Ages.  This relationship impacted the history of both regions and is showcased during the Medieval Festival.  Throughout the weekend there are exhibitions, learning opportunities, and realistic interpretations of what life at this time was like in Italy and for Italian families.
In Milan, a city that is centuries old yet still growing and thriving, exploring the historical context of the architecture is easy and an incredibly fun way to learn.  Make sure to check out the world famous Milan Duomo for a firsthand experience of some of the ancient architecture that is still standing in Milan.  While you're on the terrace make sure to look out over the gorgeous city for a breathtaking view of the bustling metropolis below.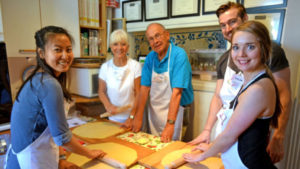 After a weekend exploring the historical framework of the city, you'll likely be psyched up to continue exploring the more modern aspects of Milanese culture.  In a city so deeply rooted in tradition, it is intriguing to see how the old blends with the new, making a hybrid 21st century culture in the capital city.  Take a hands-on approach with one of the most important aspects of culture with this guided Milanese cooking class.  Take the opportunity to learn how centuries' old ingredients are used in modern ways to create uniquely traditional fare.
After the Celtic New Year experience, see if you can uncover threads of similarity between what was enjoyed in Medieval times and what is eaten today.  Milan is a city that never stops evolving.  Make sure also to uncover how recent advancements in technology and art have impacted Italian life and shaped the city.  The Museum of the 20th Century is the perfect atmosphere to continue exploring the history of the city.  If you love music, dancing and re-enactments of medieval battles, look no further than this amazing Celtic New Year!  We'll see you there!