During the dates of July 16 through 31, join us in the Trastevere district of Rome to celebrate the Madonna of Mount Carmel.
As with so many of our traditional festivities, this one dates to 1535.  A group of local fishermen found a Madonna statue during a storm at the mouth of the Tiber River.  The fishermen gave the statue to a group of friars at S. Crisgono in Piazza Sonnino, and she became the patron saint of Trastevere.  Tradition dictates that the statue only leave its home annually, on the first Saturday after the feast day of the Blessed Virgin of Mount Carmel on July 16.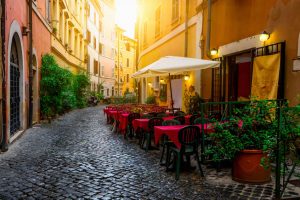 A visit to Rome, even if you've been there before will yield countless surprises and historical lessons that will leave your mouth gaping open in awe.  Check out the Vatican museums and gardens to name just one awesome sight.
Yes, our historic eternal city of Rome is home to many, many opportunities for sightseeing, education, art, religion, and fun.  And Trastevere is our very own bohemian city filled with funk, innovation, and youth.  Here you can find delightful artisan shops, quaint bed and breakfast inns, and lots of incredible foods!
The primary event of this celebration comes on July 22, when the cedar wood statue, ornately adorned with jewels and attire is carried through the streets of Trastevere from the S. Agata church (her current home) to S. Crisgono, where it remains for a period of eight days.  The sacred statue is then returned to her home via boat on the Tiber River on July 30.
If you have not had the pleasure of enjoying time on the Tiber, we encourage you to join us for dinner on our Tiber cruise to see Rome at its most beautiful.  On this cruise, you will gain unique glimpses of the city, acquire a new viewpoint of its architecture and landscape.  It is truly an enchanted way to discover our beautiful capital of Italy!
If you're interested in learning more about program specifics for this 2018 festival, click here.  You can be assured that for this festival, as well as all our treasured celebrations, expect great music, the best Italian foods, and plenty of merriment for all ages!  The primary venue, in this case, is Piazza Santa Maria in Trastevere.
This July timeframe is one of the best times to plan your Roman holiday!  And we can help!  Did you know that the fabulous weather in Rome during July averages very little rain with highs in the upper 80s (Fahrenheit) and lows in the upper 60s (Fahrenheit)?  And because it is a hot spot for tourist, you will find many English-speaking Italians!  Check out these grand options for seeing sights around this ancient city: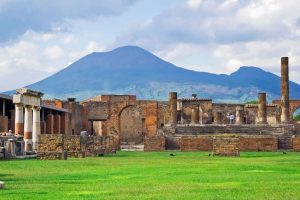 Take a glorious day trip to Naples and Pompeii.  Arrive in Naples, at the hill of Posillipo where you'll enjoy one of the most spectacular views of the Gulf of Naples and the towering volcano Vesuvius.  Later, take a journey back in time and discover the amazing archaeological excavations of Pompeii.  Plus, lots of sensational sights in between, including an Italian lunch that will blow you away!
You can also opt for a two-day trip to the excavations of the ancient city of Pompeii, the breathtaking coastline of the Sorrento Peninsula, and the stunning island of Capri.
And friends, those are day trips away from Rome, we haven't scratched the surface of things to do and see inside Rome.  You will find yourself returning multiple times for more and more!
Ci vediamo presto amici (see you soon friends).  If you have already enjoyed this festival, please share your thoughts below!