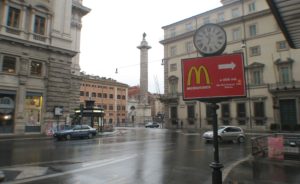 It's hard to imagine anyone searching for a burger and fries when surrounded by savory culinary creations, but it happens. In Italy, Americans who miss the fast foods of home go to McDonalds Italia, the familiar producer of the Big Mac and Quarter Pounder with Cheese. Yes, the Golden Arches are everywhere. As you stroll or drive through the streets of Rome, you'll see the world-renowned logo 287 times.
The traditional American choices are on the menu board at McDonalds Italia, but you'll also find two distinctly Italian selections. For burger fans, the McItaly Romagnola is 100% Romagna beef, provolone, arugula, tomatoes, and a soft cream sauce dressing. If you're into something healthier, try the Salad Nizzarda, a combination of lettuce, tomato slices, potatoes, eggs, and black olives. Either of these is a great choice for a quick lunch while touring Rome.
For Traditional Italian Food, try Ristorante Strega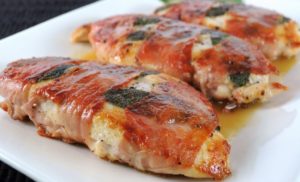 McDonalds Italia might be okay for a midday snack, but serious visitors to Italy want real Italian food for dinner. The dish depicted here is called Saltimbocca alla Romana, a veal cutlet scallopini with thinly sliced prosciutto and sage. There are a number of Roman restaurants that serve this scrumptious entrée; the top rated among them is Ristorante Strega, just a few blocks away from the Forum.
Saltimbocca is generally served with fettuccini, but it can be paired with almost any side dish. The house wine in Rome is most often Frascati, which is produced in Lazio, the wine region overlooking the city. Though widely considered a more "common" wine by connoisseurs, it's actually quite good. Frascati has a flowery aroma and slight taste of peaches, pleasurable to the palate when paired with veal and pasta. For a more robust taste, ask for Fontana Candida Luna Mater.
Roman Sites to See between Meals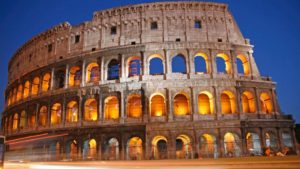 Take some time between your breakfast/lunch at McDonalds Italia and dinner at Ristorante Strega to see some of the historical sites in Rome. Weekend in Italy offers a combo package that includes the Colisseum, the Roman Forum, and the Palatine Museum. There's even a lunch or dinner at the Hard Rock Café thrown into the mix. Imagine starting your day with a McCafe coffee, enjoying a Rock and Roll lunch, and finishing with some fine Italian dining after sightseeing.
Palatine Hill is widely considered the birthplace of Rome and was once the most prestigious address in the city. Roman emperors made their home there between the first and fourth centuries AD. The Palatine Museum contains archeological remains from that time and other periods going back as early as the Middle Paleolithic era. The Forum and Colisseum are ancient Roman landmarks and signature monuments of the Roman Empire.
The Colisseum combo is a unique opportunity to spend a couple of days absorbing the ambiance of Palatine Hill, enjoying good food, and learning about early Roman history. To read more about other Italian travel packages, please peruse our website and subscribe to our newsletter. You can also find us on Facebook.