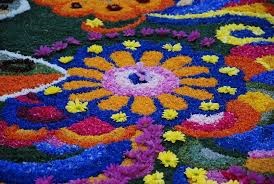 There is no such thing as a bad time to visit our lovely Italy.  There are always things to do and see no matter the weather, time of year, or length of stay.  However, on June 3 we can highly recommend The Feast of Corpus Domini or the body of Christ.  Umbria, normally a peaceful town is altered into a magical nirvana of the most profound artworks made with flowers and petals.  They are not only the colors we find daily in nature, but also dyed colors that make the entire area a wonderland of amazing colors, pictures, and incredible designs.
One of the ways to tie this fabulous event into some other great trips is to visit Assisi and Orvieto on our one-day tour.  Orvieto is about 90 minutes from Spello and you can enjoy some of Umbria's religious architecture as well as the local products, including wine from the unforgettable Tuscany region.
The flower event takes place in the ancient and very charming town of Spello in the province of Perugia, in east-central Umbria.  The artists use flowers collected in the wild, and while other parts may be used, the delicate petals are the prime focus of each lovely picture.  Wood or any other synthetic material is prohibited.  The entire event is an incredibly meticulous effort on the part of hundreds of workers who plan and prepare the flower carpets.
While Spello may not have the notoriety equal to some other areas of Italy, Foligno, the bright little market-and-transport hub (which joins the three medieval towns of Spello, Montefalco, and Bevagna) offers a great mixture of art, history, food, wine, landscape and crafts that make the area well worth a visit.
You may recall the popular love story depicted in the movie, Under the Tuscan Sun, and with this guided day tour, you will be reminded of the lovely locations from the movie.  Assisi, Cortona And Passignano Sul Trasimeno will present you with some of the most beautiful, medieval towns in the area.  Green, rolling hills, architectural delights, and gems of artwork.  Assissi will once again prove itself to be a most serene and peaceful location.  This tour allows you to have plenty of free time to explore and breathe in the magnificent views, charming shops as well as the sites from the movie.
So next time you hear the old Peter, Paul, and Mary song, Where Have all the Flowers Gone, you will know the answer…Spello!
Ciao fino alla prossima volta (good bye, until next time).