Lake Iseo (Lago d'Iseo) is the fourth largest lake in Lombardy, Italy and it is fed by the Oglio River.  This stunningly clear lake is surrounded by green mountains and it is but one of the natural beauties of Italy.  Although parts of northern Italy are more heavily industrialized, Lake Iseo is one of several pristine lakes.  Charming towns thrive around the lake, like Iseo, and Sarnico.  Ferries transport you regularly across the lake.
Lake Maggiore is the second largest lake and it is a serene day trip that includes pitstops at Isola Bella, Isola Madre, and Isola dei Pescatori islands.
While our fun friend, Kathy McCabe has us dreaming of Italy, she takes us to this region to observe the art of extreme Italian boat making at Riva Yachts.  More on Riva in a moment!
Both Milan and Verona are about a two hour trip from Lake Iseo, and in keeping with a water theme, you will enjoy a day trip to Verona, Garda Lake, and Sirmione.  We can readily recommend bringing a special loved one with you for this tour because it is filled with romance.  Three of Shakespeare's plays are set in beautiful Verona (Romeo and Juliet, The Two Gentlemen of Verona, and The Taming of the Shrew), and this two-hour guided walking tour begins by following in the footsteps of his characters.  Among other things, see Juliet's balcony, where she greeted Romeo, and gape at the gorgeous Renaissance palaces that make up Verona's historic center.  Lake Garda is another gem in this beautiful area of Italy.
And on the topic of both romance and lovely lakes, Lake Como will not disappoint!  Join us for another day trip to sensational surroundings and classic 19th-century villas.
If the mention of "the arts" leave you breathless, please visit the Brera Gallery in Milan.  It is one of the premier art collections in the world!  You can also get guaranteed access to Da Vinci's Last Supper masterpiece.
Riva Yachts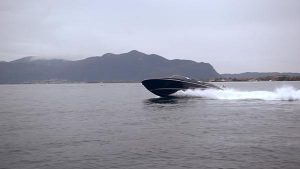 Getting back on track with this Dream of Italy, Season 1 episode, Kathy takes us to the legendary Riva Yacht location, established in 1842.  After a destructive storm had passed through the area in Sarnico, a young craftsman took it upon himself to help the fishermen, who had lost their boats or had them destroyed during the storm.  This gentleman, Pierto Riva became a trusted friend to all.  His boats and repairs to the existing boats were unique, extremely well crafted and frankly, unmatchable by any other craftsman.  His son, Ernesto took over the business and moved it into a new era of internal combustion engines, large cargo, and passenger boats.  The 1920s and 1930s were fabulous for Riva, winning yacht races, and setting records in both national and international competitions.
Carlo Riva ushered in the 1950s for the family business and continued the existing reputation for excellence and perfection.  Carlo began work with architect Giorgio Barilani who helped launch several series of boats, including the Aquarama.  In 1969, industry unionization pressured Carlo into selling the family business to Whittaker, who was an American competitor.  Carlo remained in control as Chairman and General Manager for several years, eventually retiring and turning the leadership role over to his longtime partner and brother-in-law, Gino Gervasoni.  After about 40 years, Gino retired, and it was the end of the Riva family involvement in the business.  The excellence and perfection; however, remains unparalleled today.
Monte Isola
Monte Isola is the island in the middle of Lake Iseo.  With a small population of fewer than 2,000 residents, the island boasts nearly one dozen quaint, and charming villages.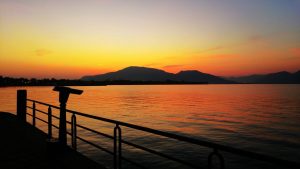 This is an area filled with opportunities to hike, enjoy the beach, take in some arts, or just enjoy the beauty of the lake by bike!  Nature abounds, and the local fishermen share their daily catch with chefs in the area who produce delectable dishes.
Finally, Kathy hooks up with Chef Luigi, who shares his secrets for tasty local fish entrees, including sardines and fish eggs, prepared with love and pasta!
Serenità, romanticismo, essere uno con la natura, godersi il meglio del meglio e condividere i più grandi vini e cibo del mondo, l'Italia ti accoglie a braccia aperte (Serenity, romance, being one with nature, enjoying the best of the best and partaking of the greatest wines and food in the world, Italy welcomes you with open arms)!  Visit us again soon for Kathy's visit and insights into Puglia.
"Weekend in Italy is a proud sponsor of the PBS series, Dream of Italy, Season 2. Enter your zip code on this page for air dates and times on your local PBS station or view the entire series on DreamofItaly.com."