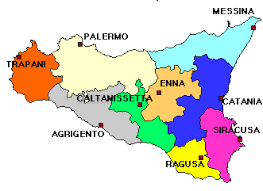 We have been sharing information about the Easter season in Italy the past several days, and today's post will not disappoint!  Enna, Sicily, located in the center of the lovely island in southern Italy, towers above the surrounding countryside.  It has two appropriate nicknames: "Belvedere" (panoramic viewpoint, which is an understatement) and "ombelico" (navel) of Sicily.
One of the many sites you may want to visit while in Sicily is the International Puppet Museum.  While unrelated to the Holy Week, the museum is an awesome creation and tribute to its founder, Antonio Pasqualino, who died in 1995.  Antonio Pasqualino was an internationally renowned surgeon, an eminent anthropologist, and a student of history and folk traditions of his native Sicily.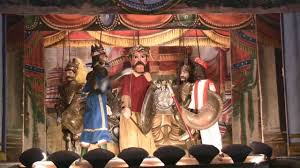 Holy week activities in Enna date to the 16th and 17th centuries, and they start on Palm Sunday (March 25).  Members of the current 15 confraternities leave their churches along with marching bands, who play sad funeral tunes until the group arrives at the main Cathedral for an hour of Eucharistic adoration.
On Good Friday (March 30), thousands of hooded members of the confraternities march in silence to the cathedral passing nearly all the streets of Enna.  They stop in the Chiesa dell'Addolorata to add the statue of Our Lady of the Seven Sorrows, and when they reach the Cathedral, they pick up the Urn of the Dead Christ.  At that time, the solemn procession begins with members of the Brotherhood wearing capes of different colors, in the lead position.
Covered by a canopy, at the end of the procession, you will see the cross with a shrine of the thorned crown, which comes in front of the Urn of the Dead Christ, and the statue of Our Lady, who are then reunited.
On the "Dominica in Albis," the Sunday following Easter, the Confraternity of the Holy Savior goes to the Lombard castle for a special blessing of the Enna fields.
If you'd like to squeeze in some one on one time with a special someone, you can't beat a late afternoon departure from Milazzo and direct transfer to the island of Panarea.  Once we dock in the port of San Pietro, we sail along Baia Calajunco and the small Zimmari beach.  After docking in Stromboli Scari's port, we visit the island until sunset, then depart to admire Stromboli by night.  The Sciara del Fuoco, ("Stream of fire"), where active lava flows freely is a magnificent sight.  You'll also enjoy a fabulous traditional Aeolian dish before the tour ends.  A special evening for special people.
Enjoy some exercise to work off a few of those Easter meal delights, and join us on a Palermo bike tour.  You can pick from five itineraries and once you enjoy one experience, you will want to go ahead and book the remaining four agendas!
See you soon, and we want to see you again and again friends!