Although Easter Monday is known as 'La Pasquetta', meaning 'Little Easter', this day is a big deal in the Italian culture and is even a national holiday. The Monday following Easter Sunday is an opportunity to enjoy the company of loved ones, the bounty and rebirth of Spring, and all of the Easter leftovers that Italian families are sure to have. The story behind this day is that the two Mary's, upon finding the tomb of Christ to be empty, were comforted by angels who greeted them. On this free Monday, Italians gather with friends and family and often head out to the countryside with the hopes of enjoying beautiful spring weather and a bottle or two of red wine over a large picnic.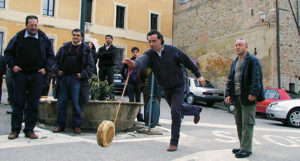 Not everyone, however, heads for the hills on this day. Throughout the country towns hold unique traditional games for townspeople to partake in. The Ruzzolone takes place in the Umbrian hill town of Panicale. The Ruzzolone is the age old 'Cheese Roll', in which a 9 pound round of Pecorino cheese is rolled through the city atop its centuries old walls. The winner, whoever can roll the cheese through the course the fastest and with the fewest strokes, is awarded the hefty cheese round!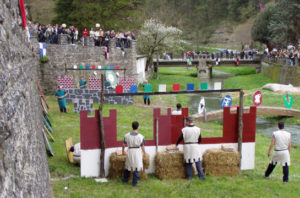 Similarly entertaining are the egg-based festivities in the village of Tredozio. During La Pasquetta, this countryside village hosts around a dozen egg-themed activities from raw egg battles, to hard-boiled egg eating contests, to parades in which eggs of every color and variety are the main event. Check it out for yourself with a visit to Umbria to discover the local flavor of this festive time.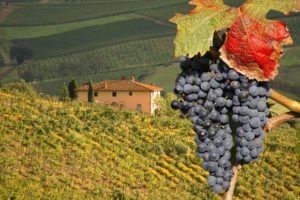 This day is an excellent time to get into the village lifestyle and plan a day trip away from the city into the countryside, just as many cosmopolitan Italians do. From Florence, visits into the wine growing region offer the ability to feel the Italian weather transition from winter into spring and to share in the feelings of rejuvenation and growth that Italians celebrate on this day. Rejoice with a tour of any of hundreds of quality countryside wineries in early spring. Opt for a visit to the Chianti countryside, for instance.
Italy remains one of the most religiously observant countries in the world and, as such, on La Pasquetta many businesses are likely to be closed. It's a good idea to spend the day outside, visiting parks and monuments outside of the city center. Take a look at the beautiful Italian springtime from above with a visit to Pisa. The Leaning Tower makes for an excellent visit, as you can look down at local groups below enjoying the holiday.