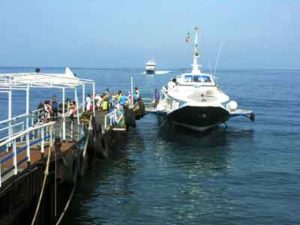 What's the simplest way to travel in a country that is surrounded by water on three sides? Here at Weekend in Italy, we've given you multiple tips for reaching inland cities, towns, festivals, and recreational facilities by train. Today, in preparation for the New Year, we're starting a series about touring the coast of Italy by water. To begin this odyssey, we'll guide you to the Bay of Naples, where Napoli ferries and hydrofoils can take you to a vast selection of stunning Mediterranean destinations.
Ischia Hot Springs and the Hidden Gem of Procida
Vesuvius was not the only active volcano in the Napoli area. The Island of Ischia was once blown apart by a violent volcanic eruption. It did rise again, though, and is now situated over natural volcanic resources that power hot springs, thermal parks, and hot water gardens. Just an hour ride by ferry or hydrofoil, this Gulf of Napoli destination is the ideal spot for a day trip spa session.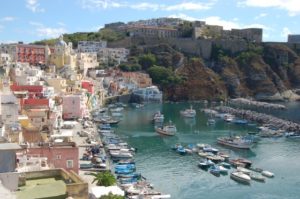 Most of the Napoli ferries to Ischia stop at the picturesque Island of Procida, truly one of the hidden gems of the Mediterranean. If you're looking for something off the beaten track, Procida has it all: quiet restaurants, semi-private beaches, and affordable hotels. Expect to be treated well. The residents aren't as jaded as some on the mainland because they don't have the same massive influx of tourists.
Hydrofoils to Sorrento and Capri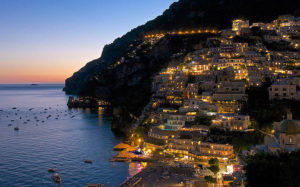 You can actually get to Sorrento by train, but why would you do it that way? Fast moving hydrofoils depart Naples throughout the day and offer a smooth ride along the azure waters of the Bay of Naples. You'll see the town long before you arrive, as this fabulous resort destination rises majestically in terraces to a height of two hundred feet above sea level. Due to its position between the bay and the Amalfi Coast, Sorrento offers a mix of early Roman, Norman, and Arab attractions.
Capri is an island that guards the entrance to the Bay of Naples. Reachable only by water, Capri's most noteworthy feature is the Phoenician Steps, a climb of several hundred feet leading to Anacapri, a separate community from Capri with a commanding view of the Mediterranean. Don't cheat yourself if you take this trip. You'll want to dedicate an entire day to soak up the scenery.
One spot definitely worth pausing at along your journey up the steps is the Villa San Michelle. Constructed in the 1890's, the villa has a selection of gardens from which you can take in views of Capri Harbour and Mount Vesuvius. It sits 327 meters above sea level, so stay away from the edge if you're afraid of heights.
Helpful Travel Tip: Weekend in Italy offers tickets and packages designed for the independent traveler. If you're planning on using Napoli ferries as part of your travel plans, don't rely exclusively on their online scheduling. Confirm all reservations with a phone call or in person visit to secure accurate departure and arrival times.