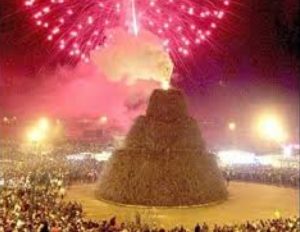 The tradition is believed to be over 1,000 years old when monks originally settled in Novoli.  The fire materials stand as high as a three-story home and thousands descend upon the area to honor Saint Anthony, enjoy great food, wine, music, and a special mass.
If you'd like to add on some vacation time to this date, we highly recommend a stay in a typical Italian home or one of many four-star hotels.  This privately guided tour includes two nights and three days of touring Alberobello, Matera, plus the panoramic views in Puglia.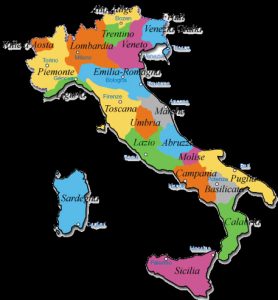 Puglia's coastline is longer than that of any other mainland Italian region.  In the north, the Gargano promontory extends out into the Adriatic Sea.  In the south, the dry Salento area forms the "tacco" or heel of Italy's notorious boot.  Cuisine plays a huge role through Apulia.  The critical, locally produced ingredients used there include olive oil, artichokes, tomatoes, aubergine, asparagus, and mushrooms.  Since the middle 1800s, like many other regions of Italy, the national language is Italian.  There are also a few pockets of the southern part of Salento, where a dialect of modern Greek called Griko is spoken by a few thousand people.   The Arbëreshë dialect of the Albanian language has been spoken by a small community since refugees settled there in the 15th century.  The area offers delightful diversity; however, if Italian is not your primary language, be sure you have an Italian translation dictionary on hand to aid in communication efforts.
Don't discount Saint Anthony the Great, because he may be overshadowed by similarly named Saint Anthony of Padua.  This Egyptian saint is particularly important throughout southern Italy, and is the patron saint of butchers, domestic animals, basket makers, and gravediggers; he also protects against skin diseases, especially shingles known as "Fuoco di Sant'Antonio" (Fire of Saint Anthony) in Italy.
Saint Anthony the Abbot was a recluse who renounced his worldly possessions to follow Jesus and performed miracles throughout his life.  He is considered the first to live a truly austere lifestyle and was repeatedly tempted by the devil, persevering through prayer.  This aspect of the saint's life is often portrayed in images of him with the devil at his feet.  His feast day is celebrated with processions, music, and especially bonfires as one legend claims that he went to hell to steal the devil's fire, and while he distracted the devil, his piglet ran in and stole a firebrand to take back to humans on Earth.
While many festivities will be in Puglia, you will also find celebrations in Caserta.  Discover the historical, artistic, and natural beauty of Naples and the entire region.  The Campania ArteCard gives you access to the wonders of the Campania region, that's more than 80 sites, from Naples to the Phlegraean Fields, from Herculaneum to Pompeii, from Caserta to Capua, and from Paestum to Padula.  Padula dates to at least the ninth century when local people used the hilltop area for defense against the Saracens.  The history of Padula as an organized village begins with the arrival in 1296 of Tommaso II Sanseverino, though the Monastery of Saint Nicola had been erected on this site earlier, in 1086.  This name was chosen because of the legendary man known as Padula.  Note that the primary language in the area is also Italian.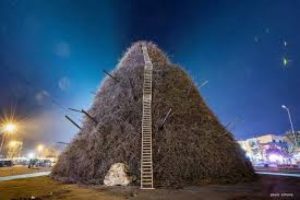 Saint Anthony's bonfire is one of the most popular celebrations in Puglia, and many friends will come from other areas to learn the heritage behind North Salento on their journey.  One of the best-known traditions in Puglia is the incredibly beautiful craftsmanship, which perfectly marries old world beauty, lush landscapes and handmade crafts of excellence.
Another highlight to enjoy is a day trip to Apulia.  This tempting tour includes a visit the historic town of Ostuni also known as "the white city," and Cisternino.  While in Cisternino, you must try our marvelous meat dish, bombette.  Tasty!  The day ends in beautiful Martina Franca filled with olive trees and never-ending vineyards.
Another great Salento tour is more inclined to our spiritual natures, and the virgin coastlines, magnificent landscapes and ending the day at the Basilica of Santa Caterina.  You will travel from Otranto to Leuca, cross through Santa Cesarea, Terme, Castro and Tricase.  You will also see our famous Ponte del Ciolo, incredible sights that you cannot find in any other locations.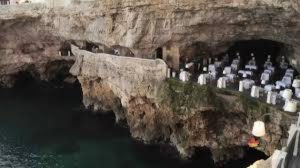 We're planning to be hanging out in Polignano a Mare to see the homeland of Domenico Modugno, the singer, and songwriter who sang "Volare."  You might even catch us belting out the tune!  What a treat!  (hahaha) Hope we'll see you there!  Let's meet in this creative, cave café for an incredible Italian meal!