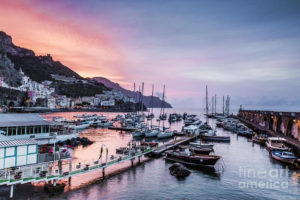 Each year the lovely seaside town of Amalfi hosts an enormous feast in celebration of their patron saint, Andrea. The feast is held in the middle of the summer to commemorate the incredible miracle of Sant' Andrea. In 1544 the Amalfi people were very afraid of the impending attack by the Barbarossa Pirates who could be seen from the seaside cliffs.After the town prayed to their patron saint for safety and wellbeing, a terrible sea storm occurred and completely eradicated the threat of the pirates. Since that year, nearly five hundred years ago, the saint's day has been honored with feasting and revelry. To get a feel for what the Middle Ages Amalfitans may have seen from the seaside cliffs, opt for a relaxing drive along the coast. Given the season, expect the sun to be shining and the water glittering far below.
The celebration of Sant' Andrea begins with a mass in the Baroque-style Cathedral. Afterward, the Archbishop of Amalfi leads a large procession of observers through the winding streets of the town. The people of Amalfi have a history that is heavily tied to the sea. Andrea was a fisherman during his life and, in accordance with the history of the Amalfitans as well as the personal history of the Patron Saint, the procession winds its way to the water's edge. If you happen to be in the romantic southern city of Naples but would love a glimpse of the glittering coastline in Amalfi, opt for a day trip leaving from Naples.
In the evening the celebration becomes quite revelrous. There are concerts in the Piazza Duomo and an incredibly inspiring fireworks display over the Amalfi Harbor. The feasting generally carries on late into the night with townspeople sharing late meals and endless glasses of wine in the nighttime summer heat. The people of Southern Italy have a penchant for enjoying the finer things in life, namely eating and drinking! To get a real taste of Amalfi, try out a food and wine tasting tour with all local options to help you truly discover the flavor of the southern region.
Have you ever visited Amalfi or Positano? Being one of the most famous cityscapes in the world, have you ever dreamed of visiting this region? How do you celebrate warm summer nights where you're from? If you've had the opportunity to visit both, do you prefer northern or southern Italy?