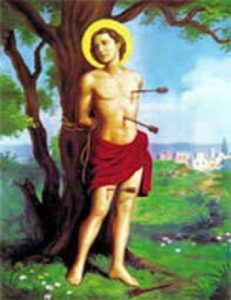 On January 20, we celebrate Saint Sebastian, the patron saint of athletes, specifically archers, soldiers, and those who desire a saintly death.  It's a one-day event celebration filled with drumming parades, music and dancing in the streets.  Sebastian was persecuted for his Christian beliefs, and his enemies first attempted to kill him with arrows.  While he survived that effort, he was eventually clubbed to death.  Despite his torment, statues consistently depict Sebastian with a peaceful look on his face.  Sicily is the best spot to appreciate the saint's life celebration.
Sicilian is the primary language on the island, and it has been described as distinct from Italian and is considered a separate language.
Plan to visit Palermo, the capital city of Sicily, either before or after St. Sebastian's Day.  While there are many incredible things to do, eating is one of our favorite options!  The street food alone is a high point of any trip!
Following the statue as it exits the church are several loud blasts of confetti throughout the path, and they get louder and messier until the statue has made its way to the street, where it is displayed high for parents to offer their babies for the blessing.  The day is complete with cannon booms, flying confetti, drummers drumming and children dancing with glee!  What a great way to spend the day!
After you enjoy the street food tour we mentioned earlier, let's work off a few of those calories on a bike tour choosing one, from the following five routes.  There really isn't a bad choice here friends, so you may as well go ahead and book time on all five!
Ballarò, the old Jewish quarter and Kalsa
Capo, Vucciria, and District of Gli Spersi
Brancaccio and Maredolce Castle
Acqua Santa and Arenella
Urban parks and green areas
This fun method of learning more about Sicily and its culture is a cunning combination of exercise, food, and art.
You may find that you want to take some of our recipes home with you and that's an option if you follow us to this fun-filled cooking class with not one, but two sister chefs!  The ladies help us shop for fresh ingredients at our magnificent markets, show us how to prepare some native dishes, all before we sit down to enjoy our meal, and of course a glass of wine.
Taking a very close second, only to the tasty treats you can consume in and around the island, the art and history of the area are best relished via our Palermo and Monreale tour.  Norman Cathedral is part of the tour, and you can't help but adore its 12th-century mosaics and the cloister of the Benedictines monastery with its Moorish construction.
Don't forget, we'll see you in the cooking class!