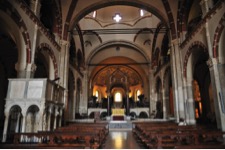 As we approach Thanksgiving here in the US, our counterparts in Milan are preparing for the Feast of Saint Ambrose, a celebration on December 7 dedicated to their patron saint, which is highlighted by a mass at the magnificent Basilica of Sant'Ambrogio. There is nowhere else on earth where the holiday season is more spectacular than in Italy.
If you're planning a December trip to Italy, Milan is the ideal choice to begin a holiday season. Spend some time in prayer at the Basilca and also enjoy a day of feasting and indulgence. The streets surrounding the piazza Sant'Ambrogio make up the Oh Bej! Oh Bej! Street Market, where you can sample a variety of foods and drinks, and visit market stalls that house a variety of arts and crafts.
Feast of the Assumption – Rome – December 8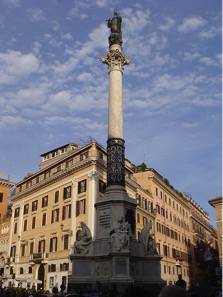 Are you in a quandary over whether you should do the Feast of Saint Ambrose in Milan on December 7 or the Feast of the Immaculate Conception (L'Immacolata Concezione) in Rome on December 8? We'd like to offer a suggestion. Go to both. A Eurail pass for your entire visit to Italy is just $58 and a high-speed train can take you from Milan to Rome in just under three hours. Be sure to make your reservations ahead of time and be prepared to get up early. There are trains departing Milano Centrale Railway Station at 5:35 and 6:08 AM.
Either train will put you in Rome bright and early and the ride is comfortable enough to nap on your way, if you're willing to miss some spectacular scenery. Once in Rome, you'll be able to participate in a National Holiday and Holy Day of Obligation highlighted by Pope Francis kneeling in prayer and placing a wreath at the feet of the Madonna at the Piazza Mignanelli, a joyful sight to cap off two days of feasting and religious observation.
Finish Your Holiday Tour in Anguillara Sabazia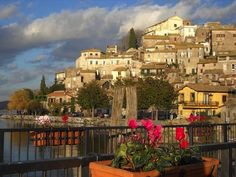 Milan and Rome are the two cities most often visited by tourists in Italy, so by the time you get done with the Feast of Saint Ambrose you'll want to get away from it all and find some peace and quiet. With your Eurail Pass, you can choose from a multitude of destination, including the lovely town of Anguillara Sabazia, less than an hour away by train. This cobblestoned community is located on the shores of Lake Bracciano, and is home to a famous medieval town centre you won't want to miss. You'll also find authentic family owned pizzerias, hotels, and villas to rent, all with panoramic views and authentic Italian cuisine.
Take Lots of Pictures and Blog About Your Trip
You'll want to make sure that you have a good camera before traveling to Italy and don't be shy about starting your own travel blog. Platforms like WordPress and Blogger are simple to use and offer social media hookups so you can share your stories, photos, and videos with friends. You're welcome to share with us also. We'd be happy to post your links in one of our upcoming blog posts.
Happy Holidays (Buone vacanze)