Did your eyes just jump over four letters and only see "chocolate?"  Ours sure did and we're packing our bags already!  Each year since 1993, Perugia, in the Umbria region of Italy, transforms into a dessert lover's paradise.  The Eurochocolate festival is a ten-day event in which you have the opportunity to mix with fellow chocolate lovers as well as all of the best producers around the world.
Being the largest chocolate-themed event on the continent, this is absolutely the festival to attend if you have a passion for the cocoa flavored treat, or maybe you're a chocolatier or yearning to become one.  The festival is held this year between October 13th and 22nd, with each day bringing new delights and activities for guests.  If you must limit your days, the first Saturday of the festival is a prime choice for those seeking the full experience.  On the second day of the festival, October 14th, chocolate artists carve incredible creations out of huge bricks of chocolate.  Each day, there are also opportunities for visitors to get artistic and explore their creative side while indulging in the delicious, sweet, tempting tastes of chocolate.  Learn more about the science of chocolate with this laboratory experience where you'll gain a better understanding of the history and complexity of crafting the perfect chocolate sample!  Yes, it is a wicked delight!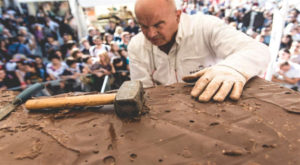 As if the beauty of the country weren't enough reason to hit the festival, it's free.  And if you're ready to eat your weight in candy, opt for a Chococard, that only costs six Euros.  The Chococard gets you free samples and exclusive access to vendors all throughout the festival.  You can also win prizes, pick up cool tsatske, discounts and priority reservations at hotels and restaurants.  If you're worried that you'll eventually tire of the taste of chocolate, fear not!  In addition to artisanal, classic flavors, you'll also taste hundreds of variations.  Ever wondered how chipotle chocolate might taste? How about chocolate kebab?  Well, you and the other visitors will have the chance to taste every imaginable expression of chocolate.  If you have a particular affinity for creative takes on this most traditional of flavors, explore this unique chocolate workshop in Modica.  By the way, Modica is a little slice of heaven!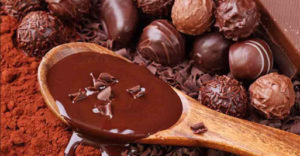 While in Perugia, be sure to sightsee the town and the surrounding region.  Umbria is known for beautifully ornate churches, hilltop towns, and timeless art.  This tour of the area will give you the perfect feel for Umbria and help provide perspective on how Perugia became ubiquitous with chocolate.  Once your sweet tooth has been sated, explore a tasting opportunity of another of Italy's rich and delicious products, wine! This wine tasting session will make the perfect counterpart to your chocolate extravaganza and help you see the vast variety of flavors and artisanal products that Italians hold so dear to their hearts.
You only live once, so don't miss this chance to be an active participant in this incredibly sinful festival.  You'll be walking off those pesky calories as you become acquainted with yet another stunning Italian region.  Look for us at the festival; we'll be the ones with chocolate lips, huge smiles and a slightly glazed look in our eyes!