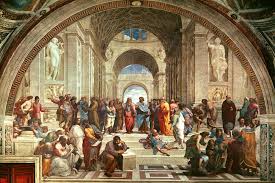 Few stories are as tragic, or as uplifting, as the life of Raphael Sanzio da Urbino. Orphaned at eleven years old, he would go on to become one of the greatest artists of the Renaissance, though his young life was cut short at the age of thirty-seven. In that short span of time, he produced magnificent works of art still on display today, including the Stanza della Segnatura and The School of Athens at the Vatican Palace. These can both be viewed as part of a Vatican Museum tour.
Apprenticeship and Early Works of Raphael
The first documented commission of Raphael was the Baronci Altarpiece at the Church of St. Nicholas of Tolentino in Citta di Castello. He completed it in 1501 AD, but unfortunately an earthquake in 1789 damaged it extensively. Only fragments and drawings are available for viewing today. Its most distinctive component, titled simply The Angel can be seen at The Louvre in Paris.
Prior to painting the Baronci Altarpiece, Raphael was an apprentice to Umbrian Master Pietro Perugino, who later painted frescoes in the Sistine Chapel. Ironically, much of Perugino's work was destroyed later to make room for a fresco done by Michelangelo, Raphael's greatest rival. The masterpiece that resulted from this act is called The Last Judgment, and is perhaps Michelangelo's greatest work.
The Influence of Florence and Da Vinci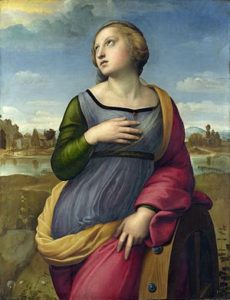 Raphael was an avid student and influences from other Renaissance masters can be clearly seen in many of his works. One of the more controversial pieces he did while in Florence was a drawing of Da Vinci's Leda and the Swan, which can be seen as part of the Royal Collection of the British Royal Family. Da Vinci's version was either lost or never completed, but design and posing elements of it are clearly visible in Raphael's painting Saint Catherine of Sienna.
In 1503 AD, when he was starting to migrate away from Perugino, prior to studying in Florence, Raphael produced the first in a series of Madonna paintings he would later become famous for. These captivating portraits are displayed at various museums around the world, including the Uffizi Gallery in Florence, interspersed with the works of Da Vinci.
The Rivalries and Conspiracy Theories of Michelangelo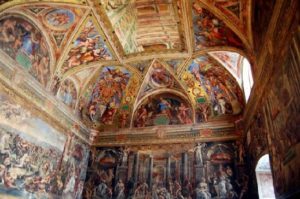 Michelangelo is considered the greatest of all the Renaissance masters, but not all that he did was spiritual and enlightening. Eight years older than Raphael, he found the younger man to be an irritation, and often blamed what he perceived as plots against him to be conspiracies contrived by the artist most closely tied to him. They worked on the walls of the Sistine Chapel together, but the Raphael Rooms of the Vatican Palace are as much a draw as Michelangelo's famous ceiling.
On Thursday, we'll be finishing up our series on Italian Maestros with a profile of Michelangelo, the man, the artist, and the legend. The greatness of his work cannot be disputed, but the mind behind that work was not always what you could call stable. Like many artists, he was paranoid, egotistical, and very competitive. Be sure to come back in a few days to read more.