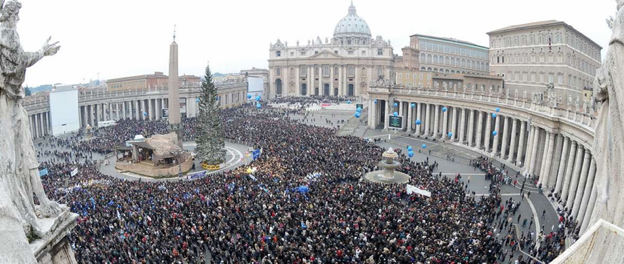 The Italian Easter festivities are best exemplified by the old Italian adage, "Natale con i tuoi, Pasqua con chi vuoi", which translates to, "Christmas with family, and Easter with whomever".  This demonstrates that the Italians view Easter week celebrations as a time of joviality and excitement, inviting people to revel with various groups of friends throughout the week.
Although in the US, Easter holidays are often confined to a single Sunday afternoon of egg hunts and chocolate bunnies, the Italian Easter week festivities are much longer in duration and have a great bit more tradition and symbolism behind them. Looking for a true Papal blessing during this holy time? Make a visit to the Pope's summer residence and receive a blessing.
For those looking to really soak in the truest of Italian Easter celebrations, try to catch a Via Crucis procession. Via Crucis translates to Stations of the Cross and is a beautiful and moving procession that usually involve torch light and instrumentals. These processions are most common in the central Italian hill towns of Orvieto and Assisi. These are also both excellent towns to visit for those looking for incredible architecture, a rich history, and uniquely distinct elements such as pigeon breeding and centuries old church frescoes. Opt for a day tour of these historic spots.
On Easter Sunday, you may be treated to a variety of demonstrations, depending on which Italian region you find yourself in. For instance, in the Abruzzo region, Easter Sunday is celebrated with La Madonna Che Scappa in Piazza, in which the Virgin Mary is dressed in black but, when reaching the main plaza fountain, suddenly is seen wearing a flowing green dress. This presentation is followed by music and feasting into the later hours.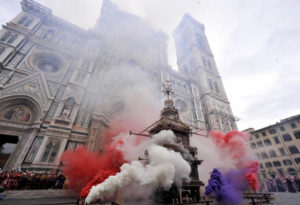 Florence also provides incredible demonstrations in the main Piazza del Duomo. Go for a guided tour through this historic square. The Exploding Cart takes place during Easter festivities and is not to be missed. In this centuries old tradition, an enormous cart is brought into the main Piazza, loaded with fireworks and explosives. The cart is then ceremoniously lit and, if the explosion is powerful, bright, and deafening, ensures a successful year ahead for Florentines.
After Easter Sunday, festivities continue wholeheartedly into the week. Although neon colored candies and dyed hardboiled eggs may not make an appearance in your Italian celebrations, Italians definitely enjoy a sweet treat or two during Easter week. Pannetone and Colomba, dove shaped breads, and hollow chocolate eggs with surprises inside are often gifted to one another as pleasant gifts during this celebratory time. Looking to further delve into the capital's Christian traditions, try a guided tour of some of the holiest places.
Have you ever spent the Easter holiday in Italy?