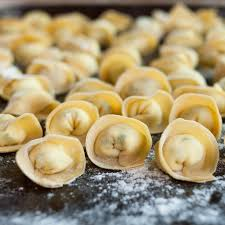 If you haven't had a chance to view one of Kathy McCabe's Dream of Italy terrific videos about Italy, shame on you!  (wink, wink) We'll forgive you if you find time to peek at her series on Dreams of Italy soon.  Today, we're going to talk about her episode on Bologna.  It is just one more reason to stop dreaming of Italy.  C'mon over and experience it for yourself!
Bologna is home to the University of Bologna, the oldest known university, which dates to 1088.  The small city has a total of 18 miles of charming porticos, and the central place to hang out is the Piazza Maggiore.  Our journey begins with Kathy's visit with two sisters who hand make tortellini.  Did you know that the tortellini shape is in honor of the Goddess Venus' belly button?  Just one of the interesting tidbits you miss if you don't watch Kathy's series.
Bologna is a short 30-minute train trip from Florence.  Soak up all you want in Bologna and hit the larger city of Florence for multiple day trips or overnight stays.
Next, Kathy takes us on a guided tour of the Lamborghini factory floor, followed by a titillating test drive.  With 750 horsepower motors, only 18 cars are manufactured each day.  Vrooooooom, talk about the wind in your hair!
Chianti is another short trip from Bologna, and you will love kicking back in the restful relaxation those rolling hills.  Of course, the wine made in the region will be another method of relaxation.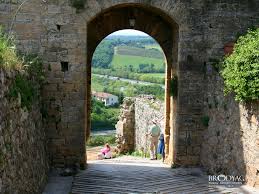 Siena, San Gimignano, and Monteriggioni are also not too far from lovely Bologna, and you can pick up tickets for those locations, and include Chianti if you'd like, as well as a light, but tasty lunch plus pastries.  Sweet teeth welcome!
If you'd like to spend added time in San Gimignano, consider tickets to the Civil Museums, filled with archeology, artwork, an apothecary, and a Medieval Tower.  A step back in time with greater insights into the earlier days.  By the way, if there are any "I do's" in your future, some great venues are here!
If you don't already know the difference between gelato and ice cream, Kathy tells you while she is visiting the Gelato University.  Light, creamy and oh so yummy!  Watch this episode for your easy home recipe!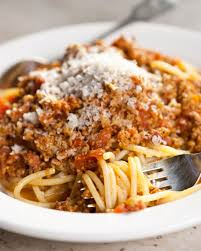 Kathy hooks up with an old friend from New Jersey who has moved to Bologna and become a winemaker!  After they enjoy the short visit, Kathy introduces us to an Italian Grandmother who shows us how to cook the authentic original Ragu Bolognaise with homemade pasta.  We visit the market for fresh ingredients and the butcher shop during this visit to nearby Savino.
The bottom line is, while you're dreaming tonight, as soon as you wake up, hop online and book tickets for one of the most enjoyable vacations around!  And those aren't sugar plums dancing in your head; it's gelato, grapes, and bolognaise!  Iconic Italy awaits your arrival, and so do we!  Stay tuned for more dreams of Italy!
"Weekend in Italy is a proud sponsor of the PBS series, Dream of Italy, Season 2. Enter your zip code on this page for air dates and times on your local PBS station or view the entire series on DreamofItaly.com."