For Americans from the Northeast or Great Lakes regions of the United States, December in Firenze (Florence) could hardly be described as "winter", but it can be a bit chilly, with temperatures averaging just north of 40 degrees Fahrenheit. If you're traveling to Italia during the holiday season, be sure to bring a warm coat. There's a lot to do and you'll want to be comfortable while doing it.
Firenze Winter Park – A Family Experience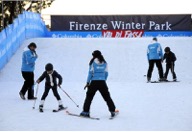 Though best known for landmarks such as the Basilica of Santa Croce and the Uffizi Gallery, Florence also offers a December experience unlike any other on the Apennine Peninsula. The Firenze Winter Park is a winter wonderland of indoor ice skating, skiing, sliding, and snowboarding. You'll even discover a new sport there, similar to hockey, called "broomball", which involves running on the ice in specially designed shoes. Try it out for something fun and different for the entire family.
Tickets to the winter park are six euros, with skate rentals available for an additional two euros. It's easily accessible by train from Florence Santa Maria Novella on Line 14 and by multiple bus lines. Leave your car at the hotel. Parking is limited and there's plenty to do within walking distance once you arrive on site.
Pisa Marathon and the Leaning Tower
If you travel to Florence in December, you can spend a day at the Winter Park and then hop a train to Pisa to take in an historic marathon (12/18) and visit Miracle Square (Piazza dei Miracoli), a World Heritage site. You'll want to do some endurance training before you go, though. The walk from the train station to the square is roughly thirty minutes and tourist passes only allow thirty minutes to climb up and down the 239 steps of the famous "Leaning Tower" located there.
While in Pisa, make it a point to sample some of the fine Tuscan cuisine offered by virtually all of the restaurants there. If you're looking for something simple and inexpensive, go to Osteria i Santi. For a dining venue away from the main press of tourists, enjoy an authentic Italian meal at the family owned Osteria di Colegna. Once inside, you will not want to leave. The food and service are outstanding.
Dream of Warmer Days
Many visitors who have traveled to Firenze in winter have expressed a desire to go back when the weather is warmer. The downside of that is that the crowds (and lines) are larger, but we still encourage making the second trip. There are few moments better than a summer's evening under the Tuscan moon, dining on local seafood delicacies and relaxing with a glass of Chianti.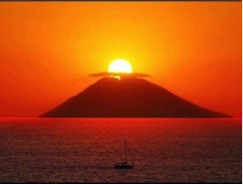 For another "summer dream" destination, take a look at our Aeolian Islands Tour: Panarea & Stromboli by Night, an eleven-hour tour of the Bay of Caljunco, Zimmari Beach, and Porto San Pietro in Sicily, wrapping up with a sunset from Stromboli Scari and a view of the famous "Slope of Fire" (Sciara del Fuocco). Leave the kids at home for this one. It's a romantic voyage you'll want to share intimately with that one special someone.