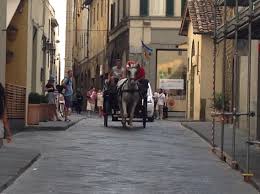 Sing along with me, "oh the weather outside is frightful," touring in Italy is delightful, and since the crowds are all at home, let's see Florence, Naples, and Rome!  LOL!  And, it's not all that frightful!
Average February temps in Florence are 53 degrees Fahrenheit, highs and 37 degrees Fahrenheit, lows.  It's a wonderful time to bypass the tourists and enjoy Italy!
Join us on a charming horse and carriage ride in Florence.  It's a great way to enjoy the major sights, Santa Croce, the Cathedral and Piazza Signoria, along with a complimentary bottle of our Tuscan wine.  Kinda' romantic, we'd say!
Another way to enjoy Florence is from a hot, red Ferrari!  We'll visit Maranello, learn to make fabulous balsamic vinegar, have a tasty Italian lunch and then hit the cheese factory to learn about (and taste) Parmesan Cheese.  Vrooooooom!
Another mode of transportation is to use our feet and take a walking tour of the city to learn centuries of Florentine history.  We'll stroll past the Uffizi courtyard, Brunelleschi's Dome, as well as the golden Gates of Paradise in the Baptistery.  After all the birthplace of the Renaissance is going to be full of historical facts, and you may also learn some secrets too!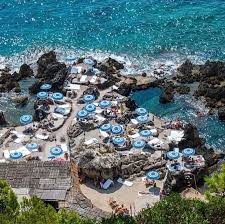 You will find the weather in Naples to be just a tad warmer than Florence, and you will also find the expressive Neapolitan language spoken around the city.  Full of history, literature, theater, and art, our "city of the sun" is a fabulous vacation spot any time of the year.  These are some of our preferred tours:
·      A coastline drive along the Amalfi coast.  See breathtaking scenes of cliffs, bays, and quaint towns like Sorrento and Positano.  You will also enjoy a delicious lunch in Pompeii.
·      Mount Vesuvius is one of only a few active European volcanoes and to view the city of Naples atop the volcano is something you will never forget.  A bus will take you most of the way, but the last 200 meters is on foot, and well worth the effort!
·      A day tour that we love is a trip to Capri and Anacapri.  Enjoy a tantalizing lunch, visit the main square and the Augustus Gardens and admire the rock formations just off the coast.  You'll have plenty of time to sachet along the ever so charming streets and if you'd like a break, check out one of our coffee bars or boutiques.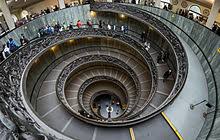 Of course, the list of things to do and see in our Eternal City of Rome is endless.  Vatican City, the Vatican museums, and gardens are all great tours.  But, we must admit that these are some of our favorites:
·      A visit and tour of the Coliseum and the secret life underground are interesting, educational and entertaining.  Plus, a fabulous view of the square from the terrace.  A little taste of a darker side of life (wink, wink).
·      We also love to scoot around the city on a Vespa, soaking in all the sights and sounds of the city.
·      Shopping with a personal shopper at our side is both fun and educational!  You can pick up some great shopping tips and insights from an expert on what looks best for you, and only you!
These are all just tiny samples of fun places to visit and things to do during the cooler months in Italy.  If you're looking for more ideas or more cities, visit us here please and book your trips!  See you 'round town soon!