We can't think of a better place to be on Christmas Eve, than in our Eternal City of Rome, enjoying the Pope's midnight Mass.  This year, Mass will begin at 9:15 pm on Christmas eve.  Tickets are going to be hard to come by at this point; however, the Mass will broadcast on giant screens in St. Peter's Square for all to hear and see the amazing message.  If you have some last-minute shopping to do, our holiday ornaments are one of a kind, unique, and beautiful gift for friends and family.
Should you miss the Eve message, the Pope will be on the balcony of St. Peters at noon on Christmas day.  This will be the Pope's annual "Urbi et Orbi" (to the city of Rome and the world) message.  Tickets are not required for this event.  You will also want to see the life-size nativity scene that stands in the center of St. Peter's Square.  While it is perhaps the most beautiful, many area churches expend significant energy and time to establish their nativity scenes as well, so be sure you take some time to "Rome around" (wink, wink).  And capitalize on your Rome visit too.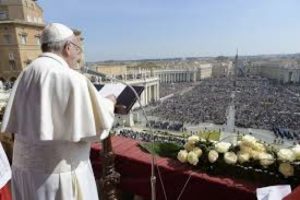 Right there in St. Peter's Square, you have multiple opportunities to tour the Vatican museums, Vatican gardens, and St. Peter's Basilica.  The tour includes a visit to the magnificent Sistine Chapel, where you should be prepared to gasp and gape in awe at Michelangelo's masterpiece.
If you've brought the entire family to hear Pope Francis' message, then we can highly recommend some fabulous family itineraries for you to enjoy.
Another fun and safe way to tour our city is by Segway!  It's a terrific night tour that includes Trevi Fountain, Pantheon, Venice Square, Montecitorio, Navona Square, Spanish Steps, Trajan's Forum, and the Temple of Hadria.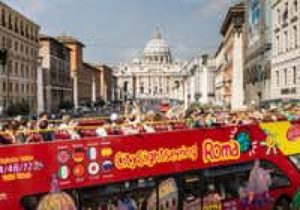 If you prefer you can also see the city by bus with a full 48-hour pass where you can hop on and hop off as you wish.  It's a double decker open top bus, so bring your shades and enjoy the beauty of the day while you take in the most incredible sights.
If biking is more to your liking, we can do that too!  The bike is comfortable, easy to ride and fun with the entire family.  This tour includes a guide, who can highlight points of interest and add in some insightful commentary.
Both Christians and many non-Christians recognize the special eve event via traditional midnight services held around the world.  Services have been held at night because we believe that Christ was born in the evening.  Hence songs such as Holy Night, and Silent Night, Holy Night.  If you have never attended a celebration of this kind, regardless of your faith, Pope Francis delivers a thoughtful and meaningful message to the world on Christmas Eve and Christmas Day.  It is well worth your effort to attend in our beautiful city.  Even though it may be just a few brief moments, the world silently comes together as one, in celebration.  May your holidays be filled with blessings, family and friends, and your new year filled with promise!