As you know, we have been highlighting our partnership with Kathy McCabe recently.  Her season two episode, Castelvetere sul Calore is so special and emotional, that we don't dare share too much detail.  You will absolutely want to watch this unique and moving episode, a true tribute to Italy and the proud Italian heritage.
Castelvetere sul Calore is in the province of Avellino, Campania, southern Italy.  Its name comes from the Calore Irpino River that flows through the area.  It is also the home of Kathy's maternal great-grandfather.  Kathy is traveling this time with her beautiful Mother and Father to this magical, ancestral area.
The area is only about an hour from Naples, where you can tour the city and its historical center.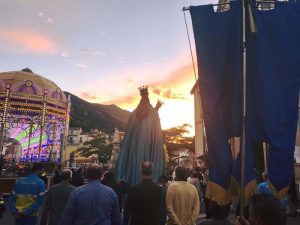 Patron Saint
Madonna delle Grazie is the town's patron saint and she is believed to be a miracle worker.  In one story Kathy's Mom shares the account of a family member who was about to lose his arm due to an injury.  He refused to the accept that fate and returned to Castelvetere where his arm fully healed!  Kathy's Mom is also a stage 4 cancer survivor!  A very blessed family!
While Siena is about a four-hour trip north of Castelvetere, the way of the Virgin Mary tour will show you great sights and insights to Mary's link to that area as well.  A very worthy trip!
McCabe Family Heritage
Kathy and her parents made this trip in honor of Kathy's 93-year-old grandfather, who always wanted to return to the lovely village.  Sadly, he died before the family had a chance to share everything they learned during their visit.  In addition to meeting a cousin, they traced their roots through visits with the Mayor, a genealogist (who had records dating to the early 1800s), visited a church (with records back to the 1600s), and a cemetery.  Follow Kathy's steps to determine if she may qualify for Italian citizenship!  The McCabe's timed their visit perfectly for the Festival of the Madonna, a fabulous celebration of the Madonna and her miracles.
Another great story is that of a woman who went to her priest claiming that the Madonna had told her in a dream to build a church.  As you might expect, the priest had doubts!  But on April 28 of that same year, snow fell in the town, only on one area, the area where Madonna wanted her church.
There is mention in this episode of a winery dating to 1675 in Campania, where you can find a cherry flavored liquor made from the cherry leaves, rather than the fruit!  And, not to get off topic, but don't forget there is a designer outlet (La Riggia) in Campania for great shopping up to 75 percent off!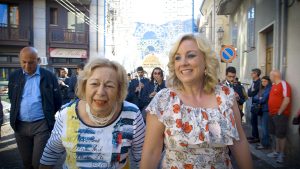 Festival of the Madonna
Therefore, on April 28 each year, the town celebrates the Festival of the Madonna, also known as Our Lady of Graces.  One of the traditions is the ladies of the town, and in this case, Kathy and her Mom prepare a special bread, to the tune of 50,000 pieces of bread!  The tortano bread has three small cuts on the circular shape for the Father, the Son, and The Holy Ghost.  For the procession, little girls carrying baskets of the bread are dressed in all gold as they participate in the parade.  After the parade, the girls carry the bread to a tour of houses in honor of the Virgin Mary.
Since Naples is so close to Castelveteri, you will also want to enjoy an evening trip with someone special as you drive along the seafront towards a fabulous Italian dinner.  You can also enjoy a private tour in Pompeii for gourmets.  In Italy, we are all gourmets!
Another way to spend the day in Naples is by visiting the San Martino National Museum and Charterhouse.  Incredible views from the highest peak in Naples.
We've wandered away from Kathy's family episode, which opens with the reading of a poem narrated in the beautiful, flowing Italian language and ends with a wonderful surprise of a lifetime!  Be sure to watch here because there is much more to see and learn in this fascinating episode!
"Weekend in Italy is a proud sponsor of the PBS series, Dream of Italy, Season 2. Enter your zip code on this page for air dates and times on your local PBS station or view the entire series on DreamofItaly.com."