Our friend, Kathy McCabe gave us some great insights and info into Neapolitans and their many loves and valued traditions.  We hope you enjoyed the video and our last post!  Right next door to Naples is the ever-beautiful Amalfi Coast.  Although we didn't have a lot of time to explore the coastline with Kathy, we did meet and go fishing with local Costabile Laudano.  And enjoyed a cooking demonstration with Chef Christoph Bob and the fresh catch!
There is so much more to share about the Amalfi Coast.  Warming weather is here and this lovely stretch of coastline is on the southern coast of the Salerno Gulf on the Tyrrhenian Sea and is a hot spot for tourists.  In 1997, the Amalfi Coast was listed as a UNESCO World Heritage Site.  Let's Dream of Italy!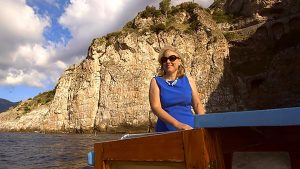 Like the rest of the region, the Amalfi Coast is in a Mediterranean climate, with warm summers and mild winters.  Beach blankets: here we come!  Of course, the beaches are fabulous and another fantastic way to enjoy the coastline is to partake of a tasty lunch in Pompeii and then take a glorious (unguided) drive along the Amalfi Coast.  The route offers incredible views of sharp cliffs, natural bays and charming towns, such as Sorrento, Positano, and Amalfi.
If being chauffeured is more to your liking (we totally get that), then our bus tour of the Pompeii ruins, buried by the eruption of Vesuvius in 79 A.D. is yet another great opportunity to soak in some awesome sights.  The city has been revived almost fully intact and it is a vision to behold!  This day tour from Naples also provides for a stop at a local manufacturer of delicate cameos and corals, some shopping and you also get to sit back, relax and enjoy breathtaking views of the Amalfi Coast, and the beautiful towns of Sorrento, Positano, and Amalfi with an expert tour guide.
How about three days in Pompeii, Sorrento, and Capri?  Sounds fantastico to us!  Please join us for some fun days (and nights) in these delightful locations.
Okay, we have to tell you about one more great trip!  A visit to Anacapri and Axel Munthe's Belvedere, with lunch in a traditional restaurant followed by a trip to the Capri center with the famous "Piazzetta".  Here, you can admire the Augustus Gardens, with the view of the "Faraglioni", and still have time to walk in the picturesque streets (Via Camerelle, Via Tragara, Via Le Botteghe) filled with great places to stop for a drink or do some pleasurable shopping.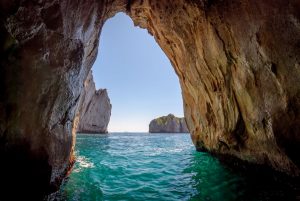 Be sure to visit Capri while you are on the coast.  It is the preferred site of many artistic and eccentric visitors and residents who now call the area home.  The island is filled with unique marine and bird life, lovely villas and is quite the cosmopolitan community!
Ci vediamo sulla costa amici (see you on the coast friends)!
"Weekend in Italy is a proud sponsor of the PBS series, Dream of Italy, Season 2. Enter your zip code on this page for air dates and times on your local PBS station or vie